World Food Day is observed annually on October 16 to draw attention to issues surrounding food supply, production, distribution, nutrition, and starvation, among other challenges.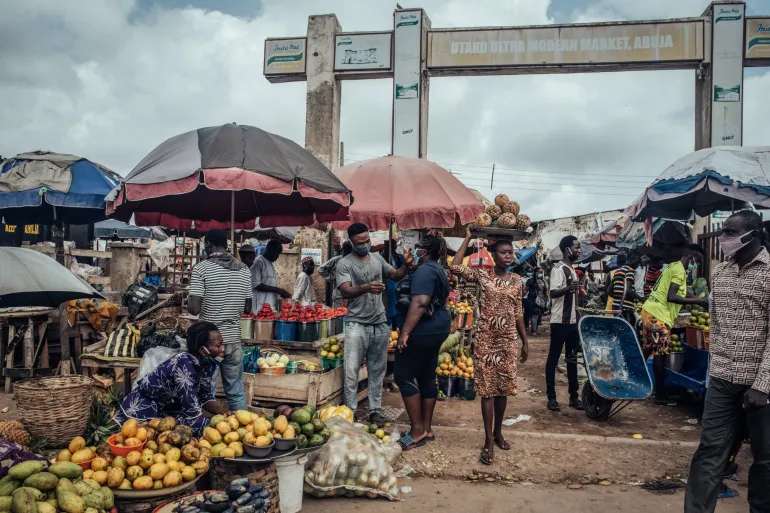 Sharp Rising in prices of food has increased the cost of living which hurts the economy of the country. Having looked at the present trend in the Nigerian economy it is very obvious that price of items has continued to raise especially food related items.
World Food Day is observed annually on October 16 to draw attention to issues surrounding food supply, production, distribution, nutrition, and starvation, among other challenges. To commemorate this year's celebrations, we look at issues that affect food production and supply in Nigeria, highlighting how agritech is helping farmers.
Causes of food inflation
Food inflation refers to a situation where the prices of food items keep increasing. When this happens, consumers have to spend more to get the same goods they got at different prices in the past.
Demand outstripping supply and supply being affected are the two major causes of food inflation. In Nigeria, the second reason is often the reason for the increase in food prices.
For a country that imports a significant part of the food it consumes, any disruption of local production adversely affects the price of food items.
One of the factors that affects the price of food is infrastructure, of which transportation is a major component. Increment in fuel and diesel costs could also affect prices.
It is also important to note that there is no fixed cost for transporting goods in Nigeria, as the road condition often varies depending on the State. To recover their losses, farmers and traders often pass these added costs down to the final consumer.
Many farmers in rural communities across the country have been deprived of access to their farmlands for fear of either being kidnapped for ransom or being attacked or killed by herders.
The emergence of insecurity has become a major threat to Nigeria's food security in recent months. Since 2002, the Northern part of Nigeria has been plagued by activities of the dreaded Boko Haram.
In recent years, the herdsmen crisis has taken centre stage, tormenting farmers, further complicating an already disturbing situation. Consequently, farmers in the North and middle belt can't go to their farms.
Lastly, the agricultural inputs needed by farmers, such as pesticides and fertilisers, had become more expensive. It, therefore, makes sense that they increase the prices of their products.
READ ALSO: Food West Africa At A Glance
Effects of food inflation
Everyone feels the effects of food inflation but at different levels, from the mother who has to decide what to leave out while grocery shopping to the trader who has to sell almost twice as much to meet previous sales targets; there really is no winner.
Some merchants believes that increasing food prices present a lose-lose situation for everyone involved. Since no farmer can produce all the food items their family needs, they buy what they need from others. Traders can't sell as much as before due to consumers' reduced purchasing power means they do not buy as much as they once did.
The role of agritech in tackling food inflation
Like other areas of the Nigerian economy, tech and tech-enabled startups have sprung up to solve the problem of food inflation.
Agritech is the use of technology, which can be in the form of services, applications and tools, in farming to improve efficiency and profitability.
New innovations, such as autonomous tractors, drones, sensors and blockchain technology are now being used in developed countries. This has led to the rise of precision agriculture, which is simply the use of information technology to optimise the farming process.
Precision farming is being promoted by agritech startups the world over. But in Nigeria, many of the startups in this sector are promoting crowdfarming.
This is due to the tunnel vision that lack of credit is the biggest challenge of farmers in the country. Akin to crowdfunding, crowdfarming pulls together small amounts of money from a large group of people to invest in agricultural ventures.
Most of the agritechs in Nigeria broadly provide four services to farmers: access to finance, agricultural input, training and development, and marketing. The few that cover the whole gamut of production, processing and packaging of farm produce are not as popular as the crowdfunding platforms.
READ ALSO: The Beauty Of Food
Simply Green, for instance, grows fruits and vegetables, and also processes them into fresh juices. Also, Fresh Direct Nigeria uses hydroponics, a type of hydroculture, which entails growing plants without soil, to produce fruits and vegetables and process them into finished products.
For sustainability in Nigeria, the rate and way of food production has to change because by 2030 the population will rise to 450 million.
READ ALSO: How To Prepare Nigerian Jollof Rice