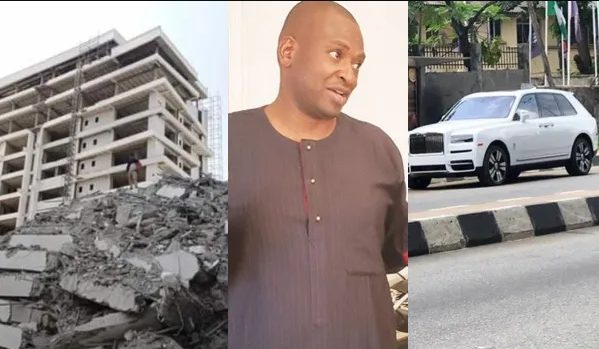 The wife and brothers of Femi Osibona, the owner of the 21-story building that collapsed in the Ikoyi region of Lagos State on Monday, November 1, are said to be at odds over his assets just days after his body was discovered from the rubble.
According to Sahara Reporters, the wife attempted to obtain admission to her husband's residence along Mosley Road in Ikoyi after flying in from the United States, but was rejected by several of Osibona's siblings.
According to the article, Mrs. Osibona, who had four children with the late Femi, is currently engaged in a legal battle with the brothers over the deceased's collection of exotic automobiles and other assets. Because there were bundles of money, keys to costly vehicles, and other items in the house, the relatives allegedly denied the widow entrance to the deceased's residence."
Read Also: Ronnie Wilson, The Gap Band Founder, Is Dead
According to reports, the two family factions arrived with Mobile Police Officers (MOPOL), but were all kept out by building residents who were the deceased's neighbors.
A source told the publication;
"The brothers and wife of Femi Osibona are fighting over access to bank details of the deceased and keys to expensive vehicles. This is despite the fact that the man has a wife and four kids. The body is yet to be buried; they are already fighting over his property. His wife was at the site yesterday, shouting at his brothers. I think there are loads of cash in the house.
Read Also: Biography of Christiana Omavuaye Martins
"Femi's brothers have stopped his wife and daughter from getting into his apartment. It is such a mess that money has become the root of all this evil. The brother asked the wife to go and stay at the hotel and she claimed she has no money to go there."
Another source was quoted as saying
"The woman came to the house with MOPOL; the family also engaged the services of MOPOL. On each side, there were about twenty people shouting on one another. When it was already midnight, we chased every one of them out of the house. They were outside till midnight shouting, swearing, boasting and threatening. Instead of mourning, these people were fighting over assets. They have also engaged popular lawyer, Olisa Agbakoba, on the matter."
Glamsquad Magazine recalls that during the rescue operation on Thursday, the body of late Osibona was located among others. The whereabouts of Osibona, Wale Bob-Oseni, his companion, and others trapped in the building had been a source of anxiety.
Bob-Oseni, who was scheduled to fly to the United States, took a detour to visit the project at the developer's invitation, but he did not make it out alive. On Monday, a building on Gerrard Road in Ikoyi, Lagos, collapsed, trapping an undetermined number of people behind the wreckage. The death toll has risen to more than 40 people.