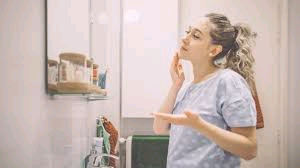 In a lady, your face is your most price possession. Most people say is your brain but before a person approaches you he doesn't see your brain, what he sees is your face.
Its advicable to keep your face as smooth as possible, how to achieve such goal is by making surd you keep a consistent routine for your skin.
Read Also: Best Moisturizers To Try For Your Skin This Year
Here are some routine you should try out if you haven't started using them;
1. Cleanser
Ensure you wash your face with soap and water (in absence of either, use a facial wipe) immediately you wake up in the morning, this is the most important routine of all.
2. Moisturizer
Apply any moisturizer of your choice immediately you are done washing your face, it helps loosen the face and avoid dryness.
3. Sunscreen
Applying sunscreen is very essential for all skin types. You can as well not do any of the above if you will not protect your skin from the sun. Smooth on a broad-spectrum SPF 30 or higher sunscreen as the final step in your morning routine. The sun is the number one reason people's skin age prematurely. Always protect your skin from the sun, even if you are staying indoors all day.