Nollywood actor and producer, Yul Edochie has expresses anger towards his colleagues and Nigerians for what he tag as "hypocrisy".
Following the death of singer, Mohbad's Yul noted that some persons have been using the singer's name to chase clout.
He stated that the bullying inflicted on Mohbad mirrors the bullying he has endured from many colleagues and online trolls, all without giving him a chance to explain his side of the story.
Referring to them as demons and wicked individuals, he asserted that the internet trolls and his colleagues are indistinguishable from those who mistreated Mohbad.
On hid Instagram page, he wrote
"All of una wey dey post Justice for Mohbad, plus the Nollywood people wey join una dey shout am, you're not different from the people that were maltreating Mohbad.
"You're all demons and wicked people, simply chasing clout. You're all the same people who have been insulting me for over one year, bullying me on the internet, trying so hard to kill me for mater wey no concern una.
Simply bcos I took a personal decision for my life that is not your business. How many of you fought for Mohbad when he was alive?
Now that he's dead you're using him to draw traffic to your page. Useless people. For over one year, bloggers have been telling all sorts of lies against me. Everybody turned to blogger for my case. Spreading false stories about me on Facebook just to make money.
Telling lies just to destroy my name. On top of matters wey una know nothing about. Just bcos men don't talk. None of you know what I see in my home, that inspired my decision. Idiots.
What they did to Mohbad is what they've been doing to me on the internet for over one year. How many Nollywood people have come out to say "Enough"?
You're all waiting for me to die so you can post my picture and write your nonsense 'Justice for…'
Na thunder go fire all of una. I lost my son. In the midst of unbearable pain, Dem say na me kill my son. How many of una come out to fight for justice?
Even my own Aunty has not called me on the phone for one day to ask me what happened. Instead she dey use me draw traffic for her page.
On top of matter wey no concern una. On top of matter wey una no know as e take start or wetin dey happen inside house. Bcos a man would rather keep quiet and protect the image of his wife than spill unnecessary information.
The bullying, insults, curses, etc. I have received on the internet for over one year is enough to kill or drive to depression. But una no fit kill me. God made my head strong. 100 million of you demons no reach me. Whatever evil you wish me will follow you a thousand times. Witches and wizards".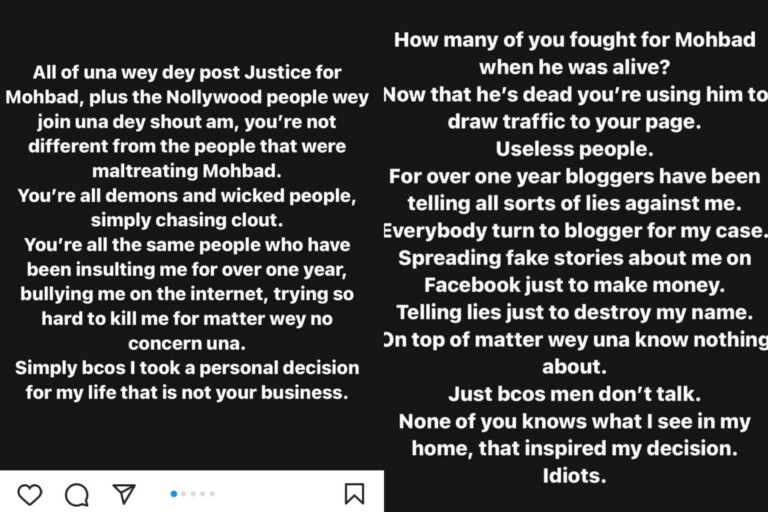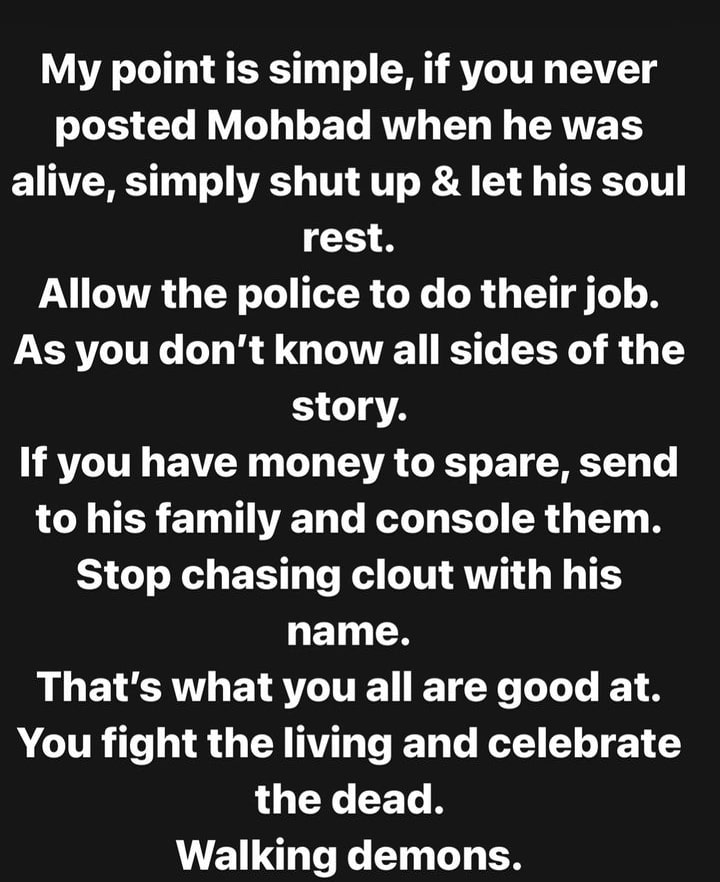 Read Also; Reality TV Star Teddy A reflects on Mohbad's passing: 'It's only in death that people show care'