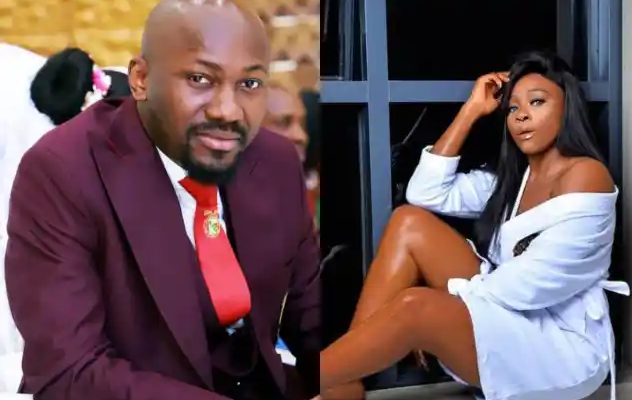 In an interview with Saturday Sun, actress Chioma Ifemeludike discussed the impact of her confession about sleeping with Apostle Suleman and the problems it has caused her.
In August, the actress shared on Instagram that she has a confession to make, especially now that she is a born-again Christian. She then dropped the bombshell, claiming she once slept with Apostle Suleman for money.
She explained how it had an impact on her mental health:
"Life has been great since after the confession, even though the first few days after it went viral, the heated backlash kind of got to my mental health but because of being this person who looks on to God and not man, I've always been very attached to God. So, it wasn't difficult for me to find my feet spiritually, mentally and physically. Yes, it was tough for some days but over time, I had to deal with the situation in my head and as the days went by, I was motivated and even stronger."
Read Also: Singer Bez's wife opens up on past shame and guilt
She was also asked to respond to claims that she made the accusation in order to extort more money from Suleman, and she stated the following:
"The people who know me know that money does not freak me. What freaks me is character. Money, power does not move me. I need money but money is not everything. There's a way I see life and there are things I value more than money. Extort who? How much is he going to give me?"
"Do you know the guilt I carry all these years, for something that I did? I knew that I did it out of desperation, I did because I wasn't acting right and so fast forward to today, I'm dealing with the guilt and I come out to spill it and I want to extort the person! I don't know how it works o, but even if they bring one billion dollars here, I can't be moved. The truth is the truth."
"It's a fact, it's bigger than me, the Universe has taken record and there is something bigger than the Universe, something bigger than money and something that put us here. We must always think beyond that. The day the world was created, the day everything you see was put together, money was not in the concept."
Read Also: 'I have no problem with my lover cheating on me' Moyo Lawal
"Man conceptualized money and so, what would I want to do anything of that magnitude because of money, no, that's totally wrong I never did to extort anybody. I just for my faith, so, children of God, I did it for my society and that I what will matter for decades, for centuries, that's what will count, not money".