Nollywood actor, Yul Edochie has finally broken his silence on the death of his first son, Kambilichukwu as he pays tribute to him.
Taking to his Instagram page, Yul shared a video reel of his late son as he recounted their last moment together. He said that on the day Kambilichukwu passed away, he came into his room dressed for school and informed him that there would be an Interhouse sports competition the following day, which he had committed to attend.
Yul also recalled that they had shared a light-hearted moment about his height, and how his son had eagerly told him about his upcoming gold medal in swimming.
Sadly, his son never returned home, leaving him with unanswerable questions for God.
He wrote:
"On that Wednesday morning, you came into my room, dressed up for school. You told me your school will be having inter-house sports on Friday and I promised you'll be there. You were so excited. You told me you won a gold medal in swimming. I congratulated you. We joked about your height, then you left for school in your ever-cheerful manner. And you never came back home again. I can't question God.
My dear son, just 16 years with us here on earth, but you made your mark.
Great son.
Calm, cute, brilliant, always cheerful, outstanding footballer, gentle and loving soul.
You're an angel.
We miss you.
We love you, Kambi.
Daddy loves you.
But God loves you more.
Rest well, Son.
Till we meet again.
Rest in Heaven with God.
My dear son, Kambi Yul-Edochie.
Kambi yooooooo!".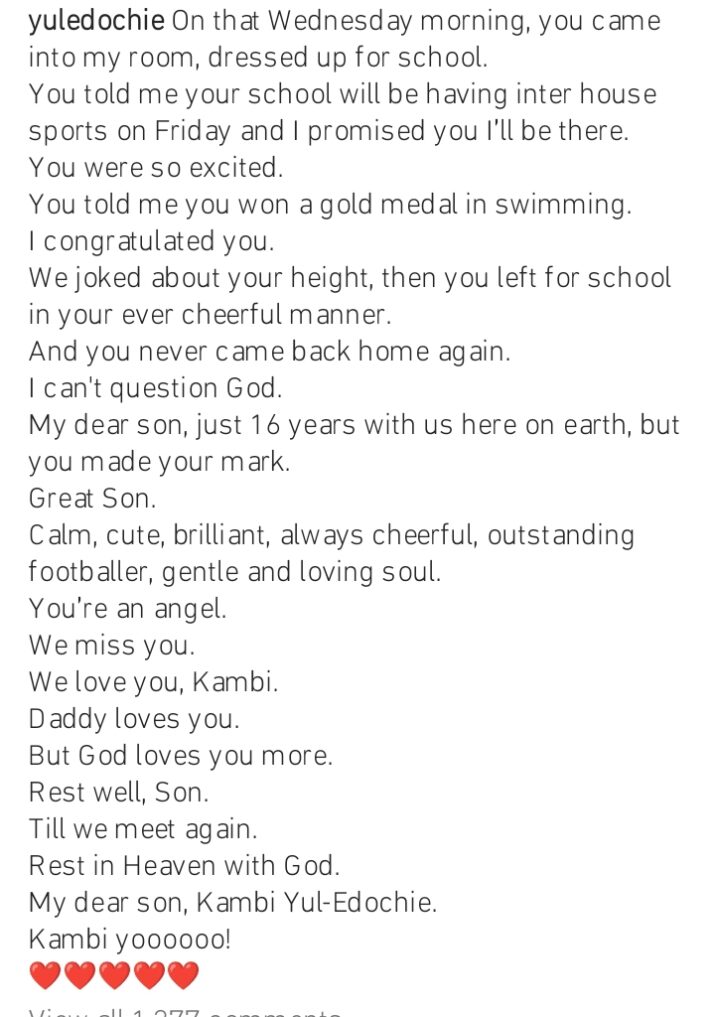 Read Also: Georgina Onuoha, others offer heartfelt prayers as May Edochie lays her son to rest