By Linda Orajekwe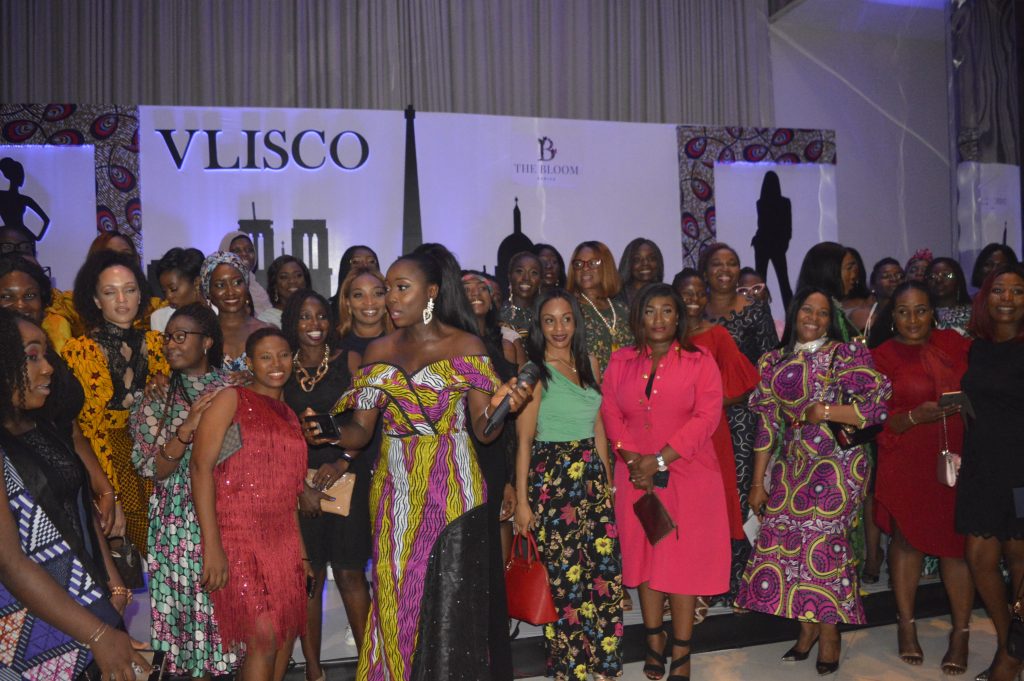 International fabric brand, Vlisco, in collaboration with the Bloom Africa celebrated their International women's day on the 17th of March in grand style at the Lagos continental Hotel Victoria Island Lagos.

The event involved panel discussion centred on the UN's theme for the International Women's Day 'Balance For Better'. The panel consist ofwell established Nigerian women who spoke to the crowd of young women and few men about how they're balancing for better in their various lives and industries and they are; Beauty entrepreneur, Tara Durotoye, self-proclaimed feminist and writer Ozzy Etomi, Executive Director of Fate Foundation, Adenike Adeyemi and highly experienced professional, Ronke Onadeko.
The panel was hosted by Tosin Durotoye, founder of Bloom Africa, a platform that encourages African women to be the best versions of themselves. According to her, the event is to foster good relationship and growth among women and create a link where top industry professionals can connect to other women and provide tried and tested tips that are helping them find balance in their various lives.

Speaking on the theme, Balance For Better, Adenike Adeyemi, opines that it's not like there's an issue with women in business because women are able to create products and services which add value to the economy, the problem is support and going further because while women are also entrepreneurs, they're not part of the policymakers to help influence decisions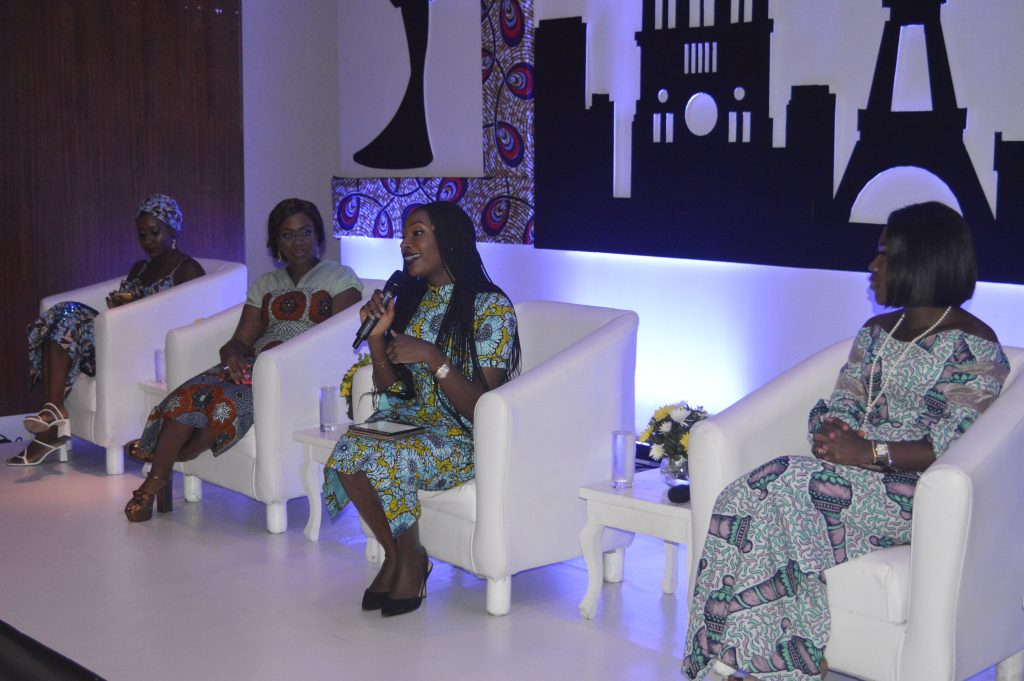 "They don't have women in places of power to be able to influence decisions around policies that affect us as a society and as a community in the home… less than 11 per cent of boards in Nigeria have female representation and not more than 70 per cent of the corporate board in Nigeria is led by women as chairs of the board. We need to think about not just having women start businesses but getting women to start businesses that grow and add value, a business beyond themselves. From my experience at Fate, we find out that women tend to be less investor ready for growth and scale than men and the main issue about that is financial literacy… If a woman had prepared for this business and able to understand her numbers, able to speak to the numbers, able to also show the confidence that she can take that because, in a lot of places, that's what is usually the case. It's improving and getting better… women tend to start a business as a hubby before, now women are starting and growing their business. So when we're having the discussion of balance for better, it's bringing women along the lines of micro businesses up to the point of small and medium and large enterprises".

The idea of attaining balance as women is an idea every woman interprets differently which is largely dependent on their journey and the struggles of women as she perceives. For Tara Durotoye, achieving balance can be very tricky with women because sometimes dreaming to od more and be more can fill you with guilt especially when this dream include a successful family of your own. The beauty entrepreneur stated that women have to find a way to make things work for them so that they can achieve all they plan to. She shares her dilemma in trying to find balance at the beginning of her career, talked about the struggles of going for appointments with her children and how she eventually worked around all these challenges to find the balance that is working for her. and the solution that is working for her.

"The challenge for me was how can I be that wife that my husband can pick up as strong support? How will I be the perfect mother? How can I start and build a company that will go from the fifteen thousand naira I started with to becomes a multi-billion naira business that can be listed in the Nigerian stock exchange for example and then combine that with building strong relationship with my childhood friends but what I concluded on was that balance is in stages and what balance is today is different from what balance is tomorrow. There was a time when I was carrying my children everywhere and all I could think of was my husband, children, and my business. I'll dream of diapers, feeding bottle and everything that had to do with my kids that I didn't even have time for myself. I focused my time on building my business and raising my children and I was lucky I had my kids back to back and I realized that I missed some of the fun things. Do I feel bad that I missed some of those things? Yes, but Balance is really about what I'm prioritizing today, what is important to me today. I spent time looking for domestic staff, they come and go like tissue paper. It drove me nuts but it meant that I needed to carry my children everywhere I went, so I had moments when my children smelt of breast milk and I knew that they were smelling of breast milk but there was nothing I could do about it. But today I cannot smell of breast milk, so what I'm thinking about right now is not even breast milk. My husband just ran for office, I had to give him one hundred and twenty per cent of my time and attention, but talking about support, you cannot have balance without support."

Speaking further, Tara Durotoye emphasized on the importance of investing in people and support because according to her, as an entrepreneur, you're not going to build your business, you need people to build your business and if you don't invest in people, you won't get their support and there's no way we can successfully have the conversation of balance without talking and dealing with the issue of support.

A seasoned professional in both the private and public sector with over 28 years of experience, Ronke Onadeko brought her experience to the panel including the challenges that came with it and how she blazed through different industries. She spoke about Balance from a novel angle as she addresses failure and encourages women to not be afraid to move away from their comfort zone but most in importantly, that they should not be afraid to fail wherever they find themselves rather they should learn to fall in love with failure and constantly improve themselves to be better. She went further to state that as women, we have failed to where we want to get to by this time but we have to sit with our failure and understand why we failed because it doesn't make any sense to only put up a fight every year on International Women's Day and take the back seat after that phase passes only for us to continue from the scratch with another theme the next year.
"As women, we have failed to get ourselves to the place where we want to be but first and foremost, we need to fall in love with failure, it's inevitable, so get comfortable with it, open up yourself to it, expect it, and when you expect, understand how you failed, why you failed and what you could've done differently. So the journey we're going on as women trying to reach clarity, we need to get back on the drawing board, are we doing things we're not supposed to do? Is it that times are changing and we're stuck with the same way we've been doing things? Every year we have a theme for the year, we have an event and we go for a break for 12 months and I'm wondering about what we're doing differently between March this year and next year."

She went on to emphasize on the need for women to educate themselves financially, be abreast with what is happening in the country they operate, go into politics and build political affiliations that'll benefit businesses like theirs and take on risk like every other serious-minded business owner who wants to build something bigger than themselves rather than trying to play it safe and not daring to dream.

"A lot of women shy away from politics and Nigeria is run by politicians, if you don't get involved in politics and if you don't know politicians, you're joking. You need to know them and find a way to be involved in what they're planning or plotting because that can turn your life around negatively or positively. So I charge every woman here to start the change in ourselves because when we change and the women around us start seeing these changes, they'll try and figure out what we're doing differently and hopefully try and adapt."

Speaking on a topic that is totally different from what other women on the panel spoke about, Ozzy Etomi educated the crowd on the idea of feminism and its misconception, especially in Nigeria. It is common knowledge that most career women are mistaken to be feminist because society sees them as ambitious as men but Ozzy Etomi corrects that misconception by stating that feminism is a choice you make and it's not a choice you make to benefit you, it is a choice made to benefit every woman.
"Feminism is deliberate. It's not enough to be the CEO of a company, it's not enough that you're a woman who is empowered because they're many women who are not as empowered as you are and it's important that you're deliberately choosing to call yourself a feminist and live in a feminist way and to also make feminist choices. We can't come to an empowerment forum like this and we're speaking about all the women we want to improve and then you go home and oppress the women you have at home. We have nannies and cleaners who don't have the chances that we have and we don't really then the way we treat our daughters and that's the thing about being a feminist because being a feminist is a deliberate choice, it's not something you just happen to be."

With this information as it relates to balance for better, the speaker, Ozzy, is urging women to support each other to attain that balance and also encourage them to be their true selves rather than a caricature of what they're supposed to be.

The panel, which was interactive as well as insightful came to a halt with the advice of these phenomenal women encouraging other women that they can indeed have it all even though not at the same time. For Tara Durotoye, the idea of "all" is subjective to the individual and can be enjoyed in seasons while Ronke Onadeko advice women to include men in conversations like this because women need the support of men to get the balance which will, in turn, benefit both parties, To Ozzy Etomi, "women need to understand that there's nothing wrong with not having it all because we don't have to push ourselves all the time" she also advises that women prioritize as the season changes rpather than try to carry all the burden on them all at the same time and take advantage of their network for support and growth of one another.
See More Pictures from the event Below