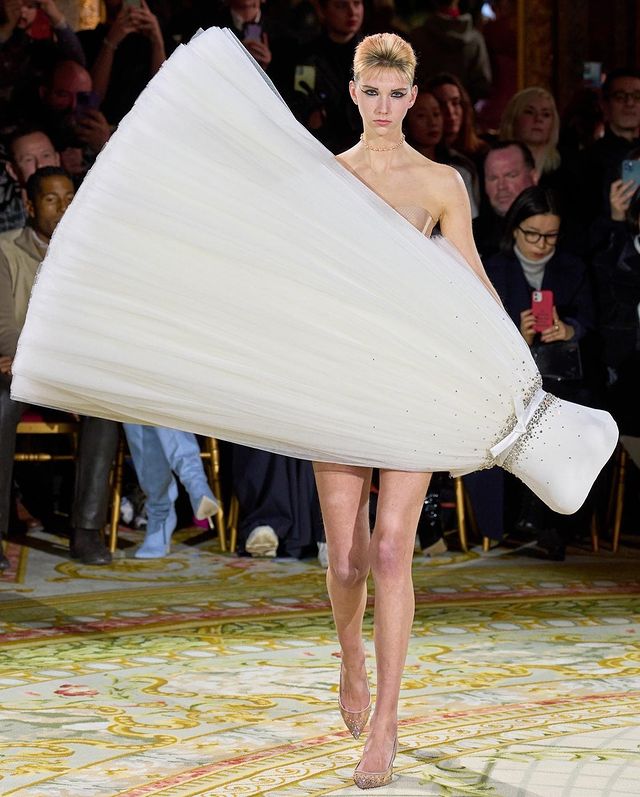 Viktor And Rolf Runway Show for Paris Haute Couture Week Spring Summer 2023 Collection was everything we imagined and more as the fashion brand brought a new era of fashion to its eager audience.
One model had layers of neatly woven powder-blue tulle covering her vision completely while she wore her ball gown backwards (she was guided along the runway with instructions delivered over an earpiece). Others wore attractive pastel outfits that were slightly off-center and held on by a frame that was angled away from their bodies, appearing to be the result of a photo-editing mistake.
Read Also: Schiaparelli Spring Summer 2023 Haute Couture
A couple appeared to have taken some red-carpet fashion advice from Wednesday Addams as they wore their debutante-style dresses perpendicular to their bodies. They managed to maintain a serious expression as they made their way into the Intercontinental Hotel's opulent ballroom while wearing glittering Louboutin kitten heels.
The first three outfits were traditional ball gowns in the shape of cupcakes with corset waists adorned with crystals and bows and sweet pastel skirts. Then a model in a beige corset appeared, pulling her peach dress 10 cm in front of her, holding it off her body with a secret frame, and giving the impression that the mice from Cinderella were pulling it along.
Read Also: Details at Schiaparelli Spring Summer 2023 Haute Couture Show
See full collection below;