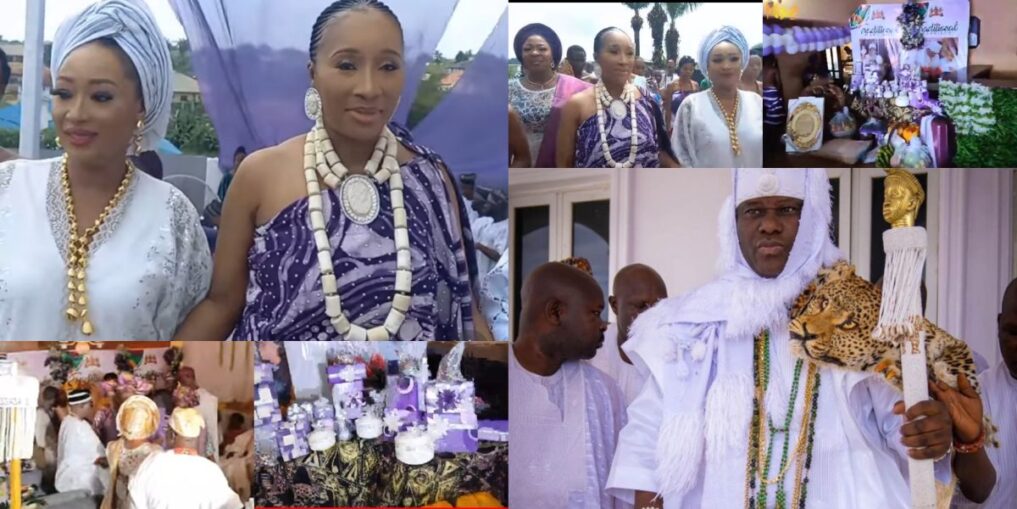 The Ooni of Ife, Oba Adeyeye Enitan Ogunwusi, Ojaja 11, married his fifth wife, ncess Aderonke Ademiluyi on Thursday, 20th October 2020.
Glamsquad notes that this is the 7th time the Ooni is getting married and the 4th time in less than 2 months.
In 2008, before he became king, he got married to his first wife, Adebukola Bambota.
He later married Olori Zainab Wuraola who walked away from her marriage to the Osun monarch. The Ooni then married Prophetess Silekunola Naomi. She ended her marriage less than a year ago and made the announcement on Instagram.
In September 2022, the Ooni married for the fourth time to Olori Mariam Anako, from Ebira in Kogi State.
In quick successions, he married Tobi Phillips and Ashley Adegoke in the weeks that followed.
Princess Ronke Ademiluyi,
Princess Ronke Ademiluyi, who is the new wife of the Ooni, has known the King before he ascended throne in 2015.
The London trained lawyer is a very well known entrepreneur who shuttled between the UK and Nigeria. Ronke is the founder of the popular fashion showcase platforms, the AFWN & AFWL franchises. As a prince then, the now Oba Adeyeye Ogunwusi's company, was one of the major sponsors of the 'Africa Fashion Week Nigeria' the fashion showcase platform founded by Princess Ronke Ademiluyi, who is a single mother of one. As a princess in Ile Ife, Ronke's great-grandfather was Ooni Ademiluyi Ajagun.
Moreover, she is in charge of the Queen Moremi Initiative; a global ambassador and founder of the Adire Odua. Her wedding to the Ooni comes up three days after his 48th birthday on October 17.
See video below,
Read Also: