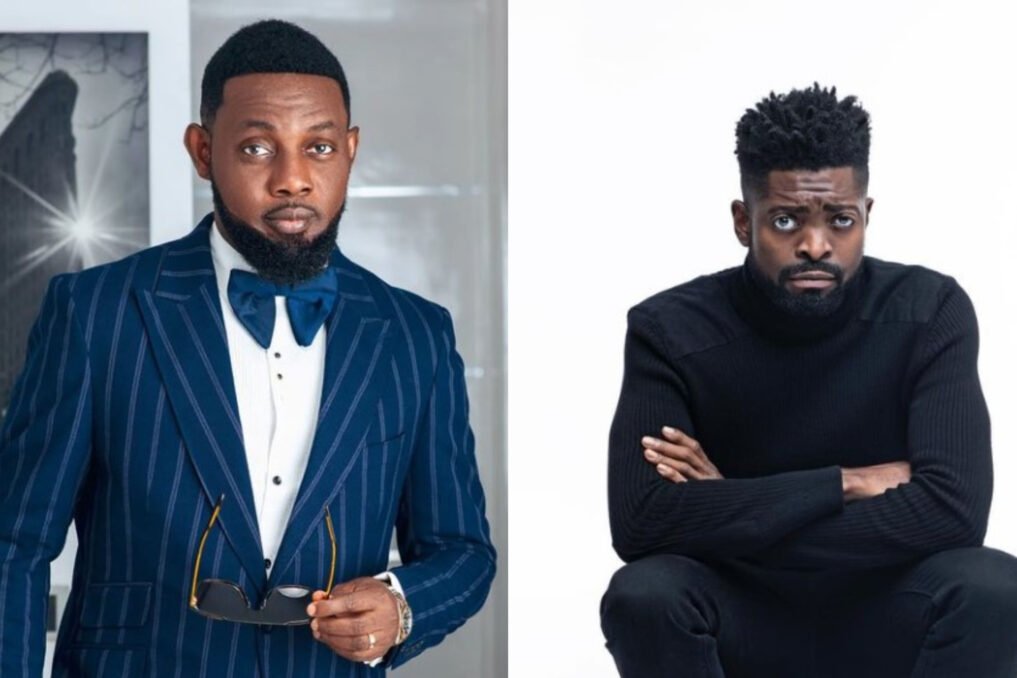 Comedian, Ayo 'AY' Makun has shared details about the origin of his feud with one of his colleagues, Bright Okpocha better known as Basketmouth.
The father of two in an interview with media personality, Chude Jideonwo, disclosed how their feud began back in 2006 when he was still struggling to make a living for himself.
Ay's tell-it all came up in the interview when Jideonwo asked why he mentioned an uncontrollable superiority complex in relation to the disagreement between him and Basketmouth during a Q&A  session on his Instagram story in May 2022.
Ay Makun said"
"In 2006, (Basketmouth) usually will get gigs like weddings – multiple gigs on a Saturday, maybe 2/3 weddings. So what he used to do at that point in time was to attend one, then at a point, leave the venue and catch up in the other venue and then you will need someone else to stand in for you. That was the opportunity I got from him of which I am very appreciative of till date.

"Now, Something funny happened. One of the gigs per say, I got his endorsement to go stand in. Usually what we get at that time is N30,000 and 30,000 at that time was everything to me. 30,000 would buy me my pack of indomie, recharge cards, fuel for my 'I better pass my neighbor' generator and then opportunity to pay just one or two people to join me to do one or two skits that I can just quickly put out.

"I got this job and the people weren't too happy to see me around the venue because they were expecting a Basketmouth to come. Long story short, the guy was later happy after the performance. There was an exchange of contacts. Then I left.

"Two weeks running, I haven't seen 30k. Because I didn't see the 30k, and I was starving in Iponri, I decided to ask for 30K and he said this person hasn't remitted, this person hasn't paid, you they're not happy because of this and all of that.

"And then me I was like, ahahn… but this person na, shebi you tell me say you were impressed and happy? Give my oga hin money na, make my oga take settle me and all of that. Me, I don't care if you give Basket 100k for the job but my 30k is my 30k.
"It was very funny to now hear from them knowing that this full payment has been made long before the event.

"I said 'O-kay, is that the situation?'. So I forwarded this one's message to this one and vice versa. So they now started fighting each other and all of that.

"I didn't do that because I wanted to get at Basketmouth per say. I did that because I was hungry, I was hustling and needed food on the table at the time."
See the video below:
In an interview with media personality, Ebuka Obi-Uchendu, on the Black Box show sometime in 2022, Basketmouth disclosed that he can't be friends with Ay Makun again.
The father of four said he fell out with AY because he messed with loyalty. He further explained that AY has apologized and they have made peace.
At that time, Basketmouth said:
"I'd have stayed where the competition is. I still do standup comedy but not with great energy because I'm targeting all-around entertainment now. My competition is me. There's nothing [like a feud] between AY and I.

"He came in my space; messed with loyalty by saying something to my lawyer Magnus that I told him in private. It was nothing but it was enough to cause a rift and have me put up the walls. We made peace and he apologised. I have no single problem with AY as claimed. We don't talk. We made peace and he apologised".
Read Also: Actor, Tyler James Williams reflects on the "traumatic" experiences of his childhood acting