Veteran Nollywood actor Pete Edochie has celebrated his 74th birthday.
The Lionheart actor shared a picture of himself on Instagram on Sunday.
He said he was thankful to God.
"74 today! Grateful and thankful to God Almighty. Thank you for your prayers and wishes," he wrote.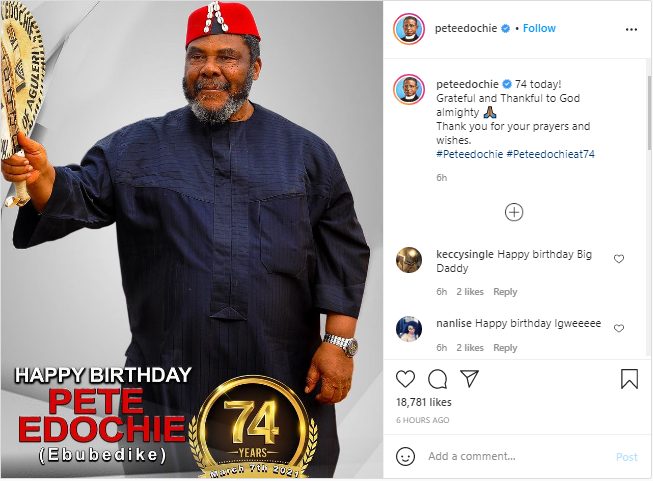 His son Yul Edochie also celebrated him on Instagram.
He described his father as a legend.
"Happy birthday dad @peteedochie many more great years I wish you," he wrote.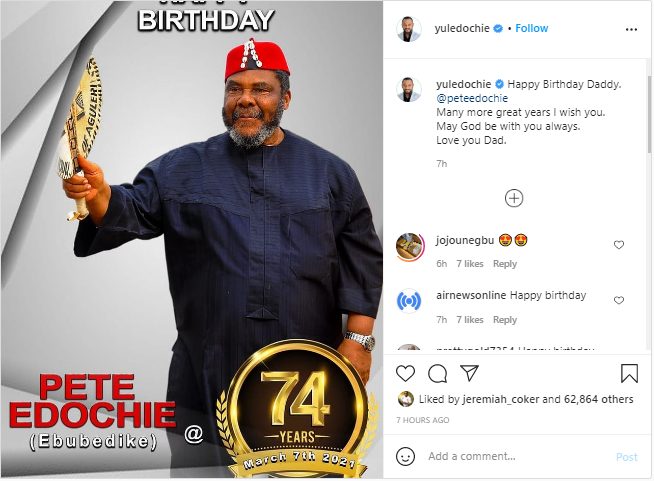 Pete came into prominence in the 1980s for playing the lead role of Okonkwo in an adaptation of Chinua Achebe's bestselling novel, Things Fall Apart.
Meanwhile, Nollywood actor Sam Dede has mourned Reggae legend Bunny Wailer.
The 55-year-old shared a picture of Wailer on Instagram on Tuesday.
He said he grew up listening to the deep, conscious lyrics of Wailer, Bob Marley and Peter Tosh.
"I grew up listening to the deep, conscious lyrics of the three Wailers: Bob Marley, Peter Tosh and Bunny Wailer. Today, clearly the most spiritually conscious and only surviving Wailer lost grip of his energy of life-force, as he makes the transition to the Most High.
"Thank you BUNNY WAILER for the consciousness and inspiration. But we always remember you said 'ONE BRIGHT MORNING WHEN MY WORK IS OVER, I WILL FLY AWAY HOME,'" he wrote.