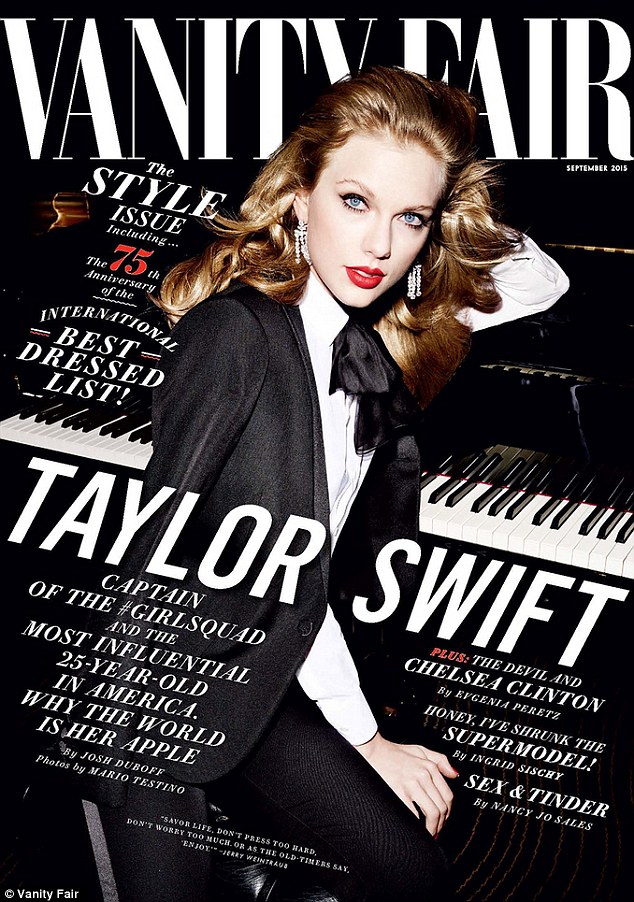 Taylor Swift who is no arguably the most influential 25-year-old in America and maybe the world, on her 1989 music tour and 'Captain of the #Girlsquad' covers Vanity Fair September issue.
In her cover story she talks about her friendships, career and her recent coup over tech giant Apple.
Taylor, In June, managed to persuade Apple to change their policy of not compensating artists for music streamed on their new service within the free promotional period.
Reflecting on the letter that she composed at 4pm one evening, which caused the tech company change their mind, Taylor said she ran it by her mom first.
'I just said, "I'm really scared of this letter, but I had to write it. I might not post it, but I had to say it."
Although she made no mention of she and Nikki Minaj 's little feud , she opened up to Duboff in her interview about sisterhood (Girls Squad) "'We even have girls in our group who have dated the same people, now more than ever we need to be good and kind to each other and not judge each other – and just because you have the same taste in men, we don't hold that against each other"
"When you've got this group of girls who need each other as much as we need each other, in this climate, when it's so hard for women to be understood and portrayed the right way in the media" she continued.
Swift also tells Duboff how Jay Z unknowingly helped her reconcile with Kanye West years after the rapper awkwardly interrupted her 2009 VMA acceptance speech.
We Also hear, although she got an array of A-list friends, she's stays very down to earth.
On the cover, she's seen posing by a piano in a white blouse, black blazer and delicate scarf tied at her neck.
She wears her signature red lip, thick eyeliner and diamond chandelier earrings and this time some it's not her usual thin blond hair.
who has amassed a loyal gang of fellow female celebrities, reveals in her interview: 'We even have girls in our group who have dated the same people.