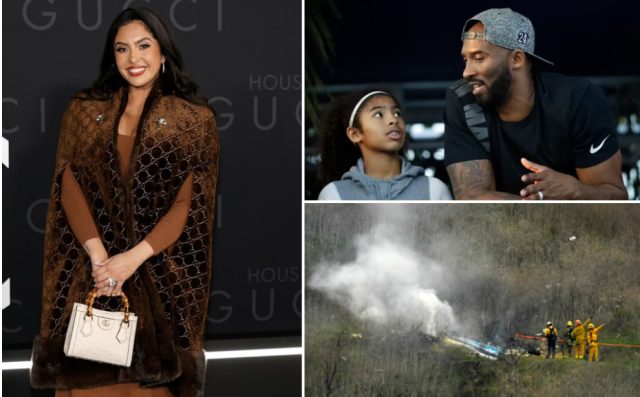 Vanessa Bryant is afraid that internet trolls may leak images of her late husband Kobe and daughter's remains, which were snapped minutes after they died in a helicopter crash.
Bryant claimed that knowing photographs of her husband and daughter's deaths were 'out there' caused her 'continuous worry and anxiety,' that she had difficulties sleeping and was sad as a result. She claims she's been contacted by internet stalkers who threaten to post the grisly photographs online, but those threats have yet to materialize.
After suing the city's sheriff's department for invasion of privacy after the photos were leaked in the aftermath of the January 2020 smash, which also killed the Bryants' 13-year-old daughter Gianna, she was forced to detail her anxiety in a declaration filed with LA County, with whom she has an ongoing lawsuit.
Bryant claims to have seen one photo of her late husband's body and claims that seeing 'Kobe Bryant body' as a suggested search on Google when she types her late husband's name into the search bar sickens her. The crash also killed six of the couple's family members and the chopper pilot.
After finding there were no survivors, Bryant instructed Sheriff Alex Villanueva to protect the crash site and not allow anyone to take photographs on the day of the crash, January 26, 2020, according to records obtained by TMZ.
'If you can't bring my husband and baby back, please make sure no one takes images of them,' she told the Sheriff.
However, she found out a month later that sheriff's deputies and firefighters were really handing around images of Kobe and Gianna's bodies.
Vanessa said finding out the information sent her into a cycle of distress, worrying they would be leaked online.
She believes around 20 people managed to obtain copies of the pictures despite being assured by the county that they had been deleted.
Vanessa reveals in the documents that she has seen one photo showing the remains of her late husband.
Read Also; Kobe Bryant's Wife Calls Out Meek Mill
'Since viewing the photo, I've been tormented with thoughts of who took it and whether it depicts my husband. It infuriates me that the people I trusted to protect the dignity of my husband and daughter abused their positions to obtain souvenirs of their deaths, as though possessing pictures of their remains somehow makes them special. I imagine Kobe watching over what occurred at that crash scene, and I am overcome by anger and emotion,' Vanessa writes.
'I feel sick at the thought that deputies and firefighters have gawked at photos of my husband's and child's bodies without any reason. I also feel extreme sadness and anger knowing that photos of my husband's and daughter's bodies were laughed about while shown at a bar and awards banquet,' she continued.
Vanessa notes that she is constantly worried about the pictures surfacing somehow online with trolls even threatening her and promising to release them. She is particularly worried that her children may be the ones to uncover them at some point in the future.
Read ALso: Marriage Is Not An Achievement – BBNaija Uriel Fires
'For the rest of my life, one of two things will happen: either close-up photos of my husband's and daughter's bodies will go viral online, or I will continue to live in fear of that happening.'
Bryant has filed a lawsuit against the Los Angeles County Sheriff's Department, saying that first responders inappropriately disclosed the images.