Tristan Thompson, a basketball player, has apologized to Khloe Kardashian, his estranged lover and baby mom, for fathering a kid with another woman, Maralee Nichols.
On Monday, January 3, 2022, the NBA star verified this in his Instagram story.
"Today, paternity test results reveal that I fathered a child with Maralee Nichols. I take full responsibility for my actions. Now that paternity has been established I look forward to amicably raising our son.
"I sincerely apologize to everyone I've hurt or disappointed throughout this ordeal both privately and publicly," he said.
He further went on to apologize to his former girlfriend and baby mama, Khloe Kardashian.
"Khloe, you don't deserve this. You don't deserve the heartache and humiliation I have caused you. You don't deserve the way I have treated you over the years.
"My actions certainly have not lined up with the way I view you. I have the utmost respect and love for you. Regardless of what you may think. Again, I am so incredibly sorry," he said.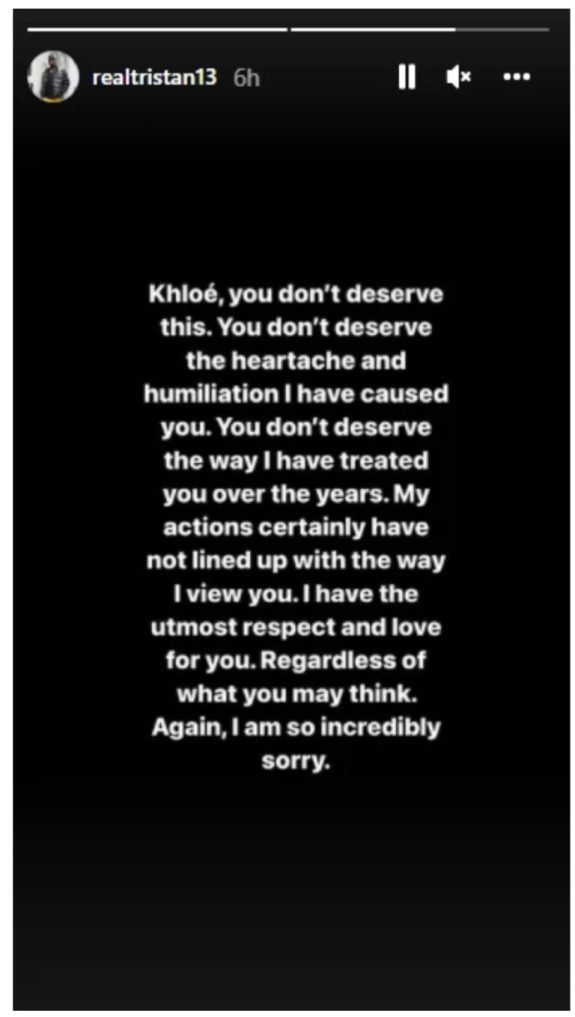 Thompson's new post comes after he chastised Nichols for attempting to profit from the issue.
Thompson also accused the trainer of disclosing their relationship and pregnancy to the media.
Nichols denied rumors that she applied for child support before the child was born while clearing the air about their relationship.
Nichols revealed that she became pregnant on the night of Tristan's 30th birthday.
At the time, the NBA star was still married to Khloe, with whom he shares a daughter.
Tristan agreed to having sex with the 31-year-old trainer in the lawsuit, but claimed it happened only once.
In 2018, Thompson and Khloe welcomed their first child together.