In Nigeria, we have so many jewelry stores however, people find it difficult to know right place to go to when it comes to jewelry shopping. Take your time and go through this article as you find the right places to get the perfect gift for holidays and birthdays.
Before we get to the main body of this article, it is critical to note what jewelries really are and what materials they are really made of, especially for collectors who are interested in specific works of art.
When people think of jewelries, they often think of gold and silver ornaments, but there is much more to jewelries than that, such as necklaces made in far Asia.
What are Jewelries?
Brooches, rings, necklaces, earrings, pendants, and bracelets are examples of decorative ornaments which we call Jewelries.
Gemstones, precious metals, pearls, and even shells are commonly used in these jewelry.
There are some that are of great quality, such as the custom engagement rings, which are distinctive in their class, as well as very sought after and rare.
What are Jewelries made of?
The most valuable jewels are usually those created from precious metals.
Gold, diamonds, and silver are examples of them.
Jewelries composed of gemstones such as amber, emerald, jade, ruby, and sapphire are also considered valuable.
When purchasing jewelry from a jewelry store, you should ask questions to ensure that you are fully aware about the product you are purchasing or where they were manufactured from, especially if you are looking for handcrafted diamond engagement rings or anything similar.
In general, it is assumed that the jewelry store is run by an expert jeweller, ensuring that you are purchasing genuine materials acquired directly from the manufacturer.
This brings us to the Nigerian jewelry stores.
In this article, GLAMSQUAD MAGAZINE has compiled a list of the best jewellers with a proven track record of selling high-quality jewelry.
These shops are also known for having a large list of happy clients, which is why they have made this list.
1. Mandilax
Uncrowned King Int'l Ltd is Mandilax's parent venture.
The shop is located at Shop 35D, Binukonu Mall, Ogudu Road, Opposite First Bank, Ojota, Lagos, and is noted for its extensive assortment of urban design jewelry.
the store can be accessed Monday through Friday, from 8 a.m. to 6.30 p.m.
10K gold and gold-plated jewelries, such as chains and rings, are among the products available.
Because of their near-wholesale costs, these jewelries are incredibly inexpensive.
In addition, Mandilax is well-known for its fashionable jewelry.
Before carving out these wonderful pieces of gold jewelry, the Mandilax crew takes the time to listen to the customers.
You can look through their brochure on their website and place orders between Monday and Friday.
Mandilax's delivery service is pretty efficient, and you can expect to receive your product within 24 to 48 hours of placing your order.
2. Benkol
When it comes to engagement rings and wedding bands, another popular retailer in Nigeria is Benkol Gold.
When it's time to buy a ring for your proposal or wedding, visit the store in Surulere, Lagos, where you'll find a large choice of ring styles.
Their web store also has wonderfully designed bracelets, pendants, earrings, and chains that you can view and order.
You can also visit their Surulere store to see these things in person.
Their rings are reasonably priced, and you can acquire one for as little as N8000.
3. Nekar Jewels
Nekar Jewels is an online store where you can buy gold beads and other jewelry.
The company also makes these jewelries, which include gold, silver, and platinum jewelry studded with diamonds, color stones, and semi-precious stones.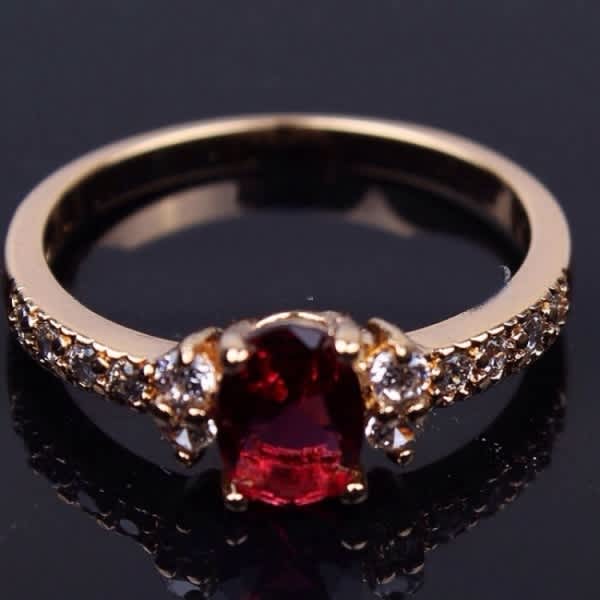 The company has a production facility in Nigeria that is outfitted with cutting-edge machinery and technology, as well as highly skilled and artistic staff.
These talented designers create unique and exquisite designs that are transformed into works of mesmerizing beauty and superb craftsmanship.
Nekar Jewels is one of Nigeria's most rapidly expanding online jewelry and accessory stores.
4. Saint Tracy's
When it comes to finding the perfect ring for your pre-wedding proposal, Saint Tracy's is a popular choice, with sterling silver and gold rings available.
When it comes to bridal gowns, the business is particularly well-known.
Wedding bands, engagement rings, and bridal sets are examples of these.
They feature a variety of 18K gold ring styles in both white and yellow gold.
The workers at Saint Tracy are kind, and the store's general customer service is excellent.
In addition, the business offers free shipping on all of its items.
If you want to take a look at the jewelry you wish to buy, you can go to any of the Saint Tracy stores in Lagos or Abuja.
5. Azarai Jewellers
Azarai Jewellers is a famous destination for jewelry collectors.
If you're in Lagos, you can go to their Island or Mainland store, depending on where you are.
The location of the Island store is at Centro Lekki Mall, Admiralty Way, Lekki Phase I, while that of Mainland is at Pentagon Plaza, Opebi, Ikeja.
Their collection comprises 9k and 18k rings in a variety of designs to suit your demands.
Engagement rings, wedding bands, and bridal sets are among their most popular items.
Azarai Jewellers can provide personalized gold jewelry to meet your exact requirements.
Orders are being completed by their in-house jewellers.
Azarai's jewellers are particularly well-known for providing exceptional and unparalleled service.
Many clients adore Azarai's custom-made jewelry, and their customer base has grown over time due to positive feedbacks from satisfied customers.
They also offer free shipping on orders above N50000 and a one-year warranty on their products.
In conclusion, purchasing the appropriate jewelry for your personal ornamentation necessitates visiting a store with a diverse selection of jewels as well as knowledgeable employees on hand to provide you with sound advice.
In this article, we've taken the effort to compile a list of the country's best jewelry stores, all of which have a proven track record of integrity and good customer service.