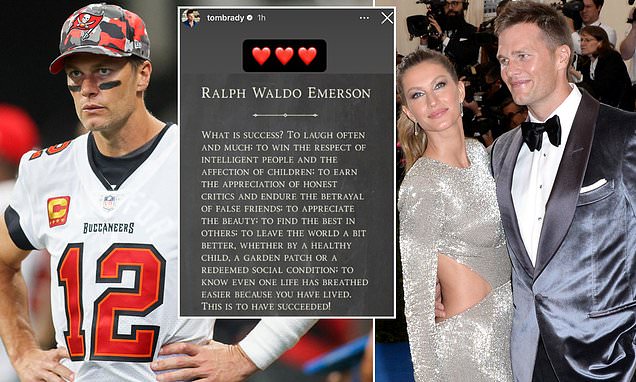 Tom Brady posted a cryptic quote on Instagram about the meaning of success and 'false friends' after his supermodel ex-wife Gisele Bundchen said in an interview about their divorce that she still loves him, glamsquad reports 
READ ALSO: Supermodel Gisele Bundchen breaks her silence on Tom Brady divorce – See details
On Thursday morning, Brady shared a quote from philosopher Ralph Waldo Emerson on his Instagram story, along with three red heart emojis that read: 'What is success? To laugh a lot; to gain the respect of intelligent people and the affection of children; to gain the respect of honest critics and to endure the betrayal of false friends.'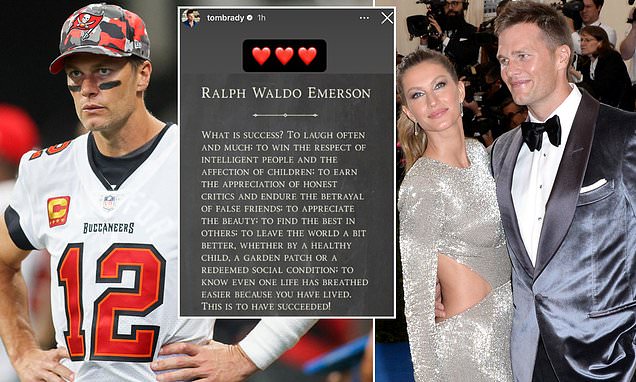 'To appreciate the beauty; to find the best in others; to leave the world a little better, whether by a healthy child or a garden patch or a redeemed social condition; to know that even one life has breathed easier because you have lived,' it continues. This is to be a success!'
Bundchen, 42, revealed in an interview with Vanity Fair on Wednesday that she still loves Brady despite their divorce.
'You grow together sometimes, and sometimes you grow apart,' she explained. 'When I was 26 and he was 29, we met, we wanted a family, we wanted to do things together.
'As time passes, we realize that we simply desired different things, and we now have a choice. That doesn't mean you don't care about the individual.
'It just means that in order to be authentic and truly live the life you want to live, you need someone to meet you in the middle, right? It's a performance. It's a delicate balance.'
Brady's decision to come out of retirement and play in the 2022 NFL season, according to the Brazilian, had no effect on their marriage.
'Listen, I have always cheered for him, and I will continue to do so indefinitely,' she said. 'If there's one person on the planet I want to be the happiest for, it's him, believe me.
'I want him to succeed and triumph. I want all of his wishes to come true. That is truly what I desire from the bottom of my heart.'
After 13 years of marriage, the couple announced their divorce in October of last year. They had two children, Benjamin and Vivienne, together, and Brady also has an older son, Jack, from a previous relationship with actress Bridget Moynahan.