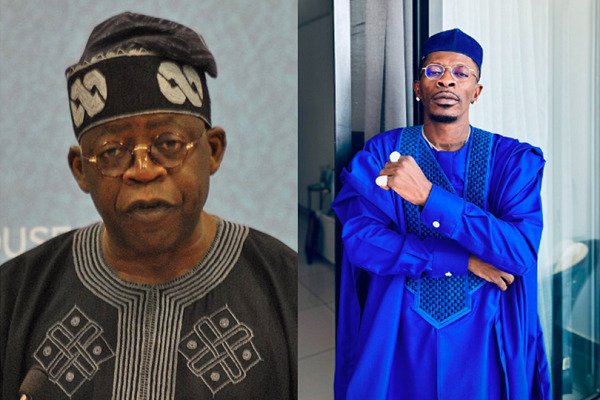 Ghanaian dancehall singer Shatta Wale has likened Nigeria's President-elect Asiwaju Bola Ahmed Tinubu to his father.
In a recent tweet, the Ghanaian star shared his photo alongside that of the former Lagos State governor and noted that everyone has opined that he has a striking resemblance with Tinubu, who is due to be sworn in as President of the Federal Republic of Nigeria on May 29, 2023.
Commenting further, Wale begged Tinubu to take him out of Ghana, bring him to Nigeria, and give him the chance to perform one of his songs to him.
ALSO READ: "GHANA MUSIC IS A SHAME"- SHATTA WALE BREAKS SILENCE AS HE HAILS NIGERIANS
Shatta Wale, who prayed for Tinubu's long life, said:
"Your excellency, everyone says I look like you, so please come and take your son from Ghana ok lol …They always say my father won't come for me, so please come for me so I can perform for u one of my songs. Thank you My president, May you live long Dad."
Asiwaju Bola Ahmed Tinubu was announced the winner of the February 25, 2023, Nigerian presidential election by the Independent National Electoral Commission (INEC) on March 1, 2023.
Tinubu, who is popularly known as Jagaban, has maintained a healthy relationship with the entertainment industry and has been mentioned by acts such as Olamide in their songs.
Shatta Wale might not be far from the truth when talking about his resemblance to Tinubu. Both of them are dark-skinned and have similar eye colour. The dancehall act is one of the biggest artists in Ghana.