Three Chinese astronauts successfully docked with China's new space station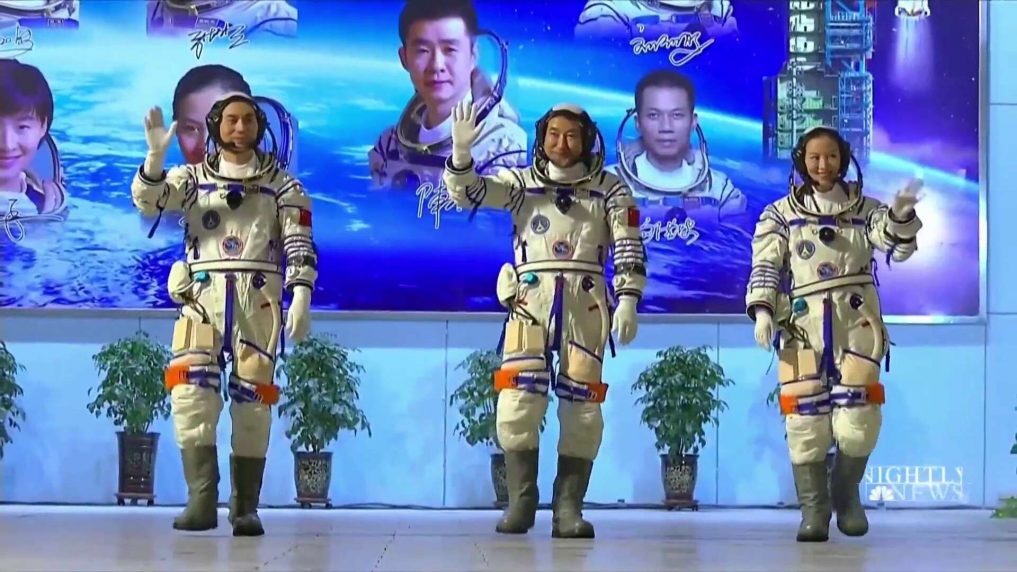 Three Chinese astronauts successfully docked with China's new space station (Shenzhou-13 spacecraft) on Saturday, kicking off a record-setting six-month stay on what is set to be Beijing's longest crewed mission to date and the latest landmark in its drive to become a major space power.
The spacecraft was launched by a Long March-2F rocket at 12:23 a.m. Saturday and docked with the Tianhe core module of the Tiangong space station at 6:56 a.m., approximately six and a half hours later.
The three astronauts entered the Tianhe space station core module at about 10 a.m., the China Manned Space Agency said.
The two men and one woman are the second crew to move into the space station, which was launched last April. The first crew stayed three months.
It will be China's longest crewed space mission, a new milestone for a program that has advanced rapidly in recent years.
The new crew includes two veterans of space travel. Zhai Zhigang, 55, and Wang Yaping, 41, and Ye Guangfu, 41, who is making his first trip to space.
They were seen off by a military band and supporters singing "Ode to the Motherland," underscoring the weight of national pride invested in the space program, which has advanced rapidly in recent years.
The crew will do three spacewalks to install equipment in preparation for expanding the station; assess living conditions in the Tianhe module and conduct experiments in space medicine and other fields.
China's military-run space program plans to send multiple crews to the station over the next two years to make it fully functional.
When completed with the addition of two more sections named Mengtian and Wentian the station will weigh about 66 tons, much smaller than the International Space Station, which launched its first module in 1998 and weighs around 450 tons.
Pictures released by the space agency showed the three astronauts waving to wellwishers who held up slogans of encouragement at a send-off ceremony before the launch.
A previous record-breaking crew making the first mission to Tiangong returned to Earth in September after spending three months on the space station.
China's heavily promoted space programme has already seen the nation land a rover on Mars and send probes to the moon.
Tiangong, meaning "heavenly palace", is expected to operate for at least 10 years.
READ ALSO: Flying solo: Chinese woman only passenger on New Year flight
Its core module entered orbit earlier this year, with the station expected to be operational by 2022.
The completed station will be similar to the Soviet Mir station that orbited Earth from the 1980s until 2001.
The latest mission is set to "expand China's technological boundary" and verify the space station system's capacity for a longer duration of human occupation, Chen Lan, an independent space analyst at GoTaikonauts, told AFP.
"I don't think it is very challenging, as China's technologies (are) quite mature, though anything in space is always challenging," Chen said.
Astronauts on the Tiangong space station will have separate living spaces, exercise equipment and a communication center for emails and video calls with ground control.
State broadcaster CCTV said astronauts had also packed special food and supplies to celebrate the Lunar New Year during their long mission, including dumplings.
China has launched seven crewed missions with a total of 14 astronauts aboard two have flown twice since 2003, when it became only the third country after the former Soviet Union and the United States to put a person in space on its own.
Saturday's blast-off came shortly after China launched its first solar exploration satellite into space, equipped with a telescope to observe changes in the Sun.