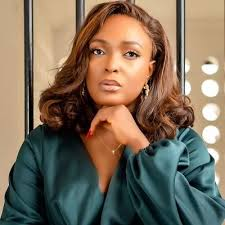 Nigerian Actress, Blessing Okoro has taken to her Instagram page to dish out a little advice to her colleague Ada Ameh.
Kemi Olunloyo, a investigative journalist, who was earlier slammed by the veteran actress for claiming deceased Dowen College student, Sylvester Oromoni, willingly allowed his seniors to beat him up so he could join their cult.
Ada Ameh had lambasted the journalist for undermining the pain of losing a child, and called her a disgrace to motherhood.
Read Also: Weinsanto Spring Summer 2022 Collection
Read Also: Video: Loewe Spring Summer 2022 Collection
It may seem as though Ada Ameh's remark did not go well with Blessing Okoro  as she reacted to it taking to her Instagram page to tell the actress to change her approach of correcting people because she is violent and abusive.
She wrote;
"This is an appeal to mummy @adaameh .
I watched you as a kid and my kids still watch d Johnsons. Pls
can you change your strategy and way of correction and calling people out. I know Nigerians are hailing you every time you do this but pls you don't have to correct with insult, abuse and words that are so depressing .
Personally I completely disagree with dr Kemi but this is not even about her, it's about every other person you have tried to correct, drag or drop your opinions.
You are an elder and it's ok to correct us , disagree and throw your opinions once in a while but not like this, this is violent, bully and too abusive, if anybody pick your words and throw it back at you just because they disagree with you or don't like what you said you won't like it too.
You made sense, in everything you said, but the way you keep saying it, is a complete NO.
Let us stop creating same monsters that we hate .
Please please please mummy .
Try and be a bit more civil .
So that small pikin no go use ur own words back at u some day .
Let us correct with love .
Thank you ma."