Seun Kuti, a Nigerian singer, has joined the list of celebrities from over the world who have reacted to the scene that was created at the recently concluded 2022 Oscars.
Will Smith and his wife, Jada Pinket Smith, attended the award event. Will Smith slapped Chris Rock, the show's emcee, live on stage for making a remark about Jada Pinkett Smith, expressing his disgust.
Jada Pinket suffers from Alopecia in real life, and Chris Rock tried to make a joke about it, which clearly backfired since Will Smith became enraged and hit him directly on stage, and even though his actions were uncalled for, it demonstrated how angry he was.
In response to the incident, Seun Kuti stated, "Chris Rock is ten times the boy I ever was, but as a man, when you slap him, the event is finished."
Seun Kuti was asked if they were now being slapped in public by prominent blacks, and he lamented that this is the kind of men they want us to be, men who know their position.
According to him, they want the type of men who can openly slap someone as a joke, as well as the type of men who can take that smack and know their place.
He added;
That's all the leading blacks want. To slap us and walk away while we hail them.
See his post below;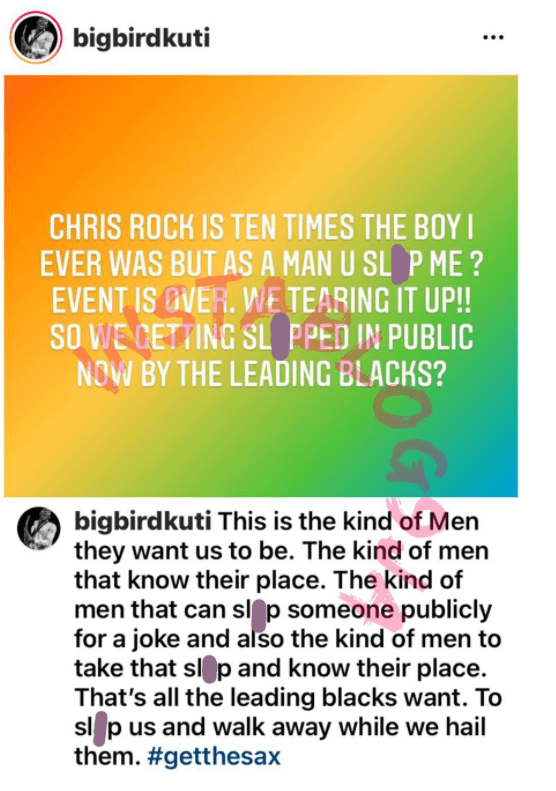 Reacting to Seun Kuti's post one kpokotiego wrote;
'Me Dey reason say this two plan am will smith fit tell Chris make he punch am so that his wife will love him more to stop the brake up rumors'
ellabeauty
'The joke was too sensitive so make you rest, makes such joke to someone's mom/wife you will collect'
Watch the video below: