Celebrity fashion designer, Makun Omoniyi better known as Yomi Casual has fumed over the high rate of indecent dressing amongst ladies in public places.

Yomi Casual who is the younger brother of comedian and actor, Ay Makun took to his Instagram page to let out his anger.

He opined that women needed to start talking to other ladies about their dressing as he noted many of the outfits ladies put on these days scream for attention.

He further recounted how a lady walked into the store wearing a t-shirt and panties. Questioning the moral of these ladies, he added that the urge to go naked is becoming like madness.
He wrote, 
"To be honest I think women need to start talking to other ladies. My God!! What these ladies wear out these days calls for attention.

"Abeg what's this craziness about? U go to the eatery, supermarket etc and they are wearing shorts and u can see their born cheeks? What's wrong with these girls?

"Last time one came with a t-shirt and just her panties under, even d security guy shook his head. What's wrong ladies? The urge to go naked is becoming like madness jeez".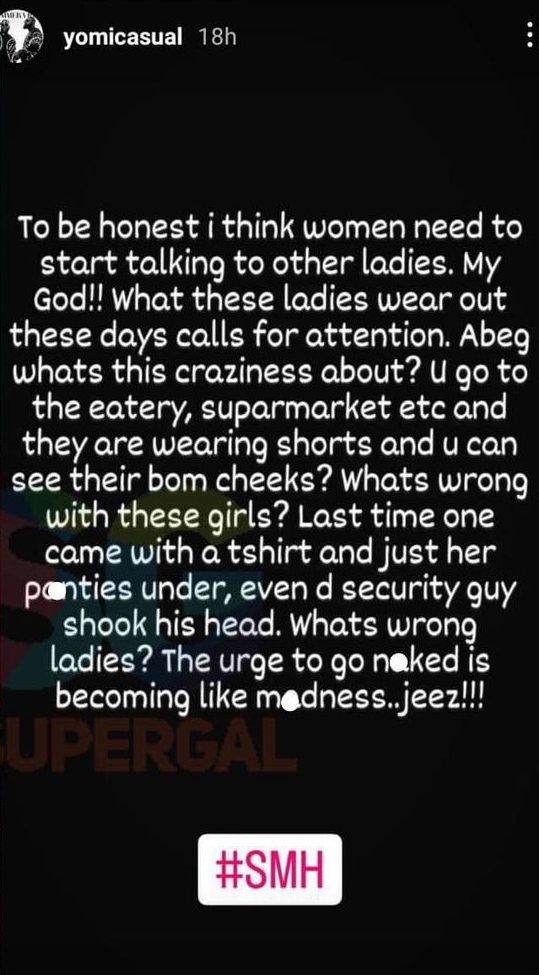 Read Also: Actress, Omoni Oboli and her husband Nnamdi are joyful as they celebrate their 22nd wedding anniversary