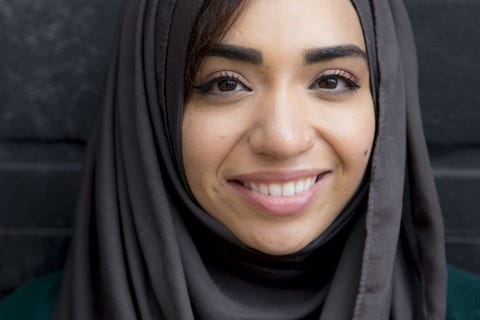 When Shirien Damra first heard about the death of Ahmaud Arbery, she started to think about softness. The 33-year-old freelance designer was horrified to hear about the young black man in Georgia who was gunned down while out for a run in broad daylight. She couldn't bring herself to watch the video of the encounter, which quickly circulated online, and incited protests and finally an arrest.
But she did want to create something—a gesture of solidarity with black communities in their time of grieving, an art piece to raise awareness about what had happened, a tribute to combat the racist stereotypes that are often used to justify the killing of black men.
"I was afraid that people would only see the video and remember his soul being taken away from him," Damra told ELLE.com over the phone from her home in Chicago.
So she set out to make something soft, something with humanity that would celebrate his life. She played around with different color palettes to see what kind of emotions they evoked. In the end, she chose bright colors and florals for her portrait of Arbery, attributes that she says are rarely seen in depictions of black men. "There's this demonization that exists," she says.
"I wanted to challenge that."