Uche Maduagwu, a self-acclaimed Nollywood actor, has age-shamed veteran actress Genevieve Nnaji over her marital status in response to a statement she made on mental health.
Genevieve Nnaji believes that mental health is more spiritual than physical, and she encourages fans to rededicate their life to God and be re-baptized.
In response to her tweet, Uche Maduagwu stated that the only thing more spiritual than not being married at the age of 42 is not being married, and she was admonished to quit misleading adolescents because mental health has nothing to do with spirituality.
He claimed that when single women are unable to find husbands, they turn to spiritual means, and he informed Genevieve that telling people to re-baptize is a major error, pointing out that Jesus was baptized just once.
Uche Maduagwu questioned how people's cognitive, behavioral, and emotional well-being can be more spiritual than physical, and it is ridiculous falsehoods like these that prevent Nigerians from seeking treatment from doctors or healthcare professionals.
According to him, Nigerians value spirituality over science, which is why fraudsters calling themselves G.O use tithes and church donations to acquire million-dollar private aircraft while 85 percent of their church members live in dire poverty.
See Screenshots below: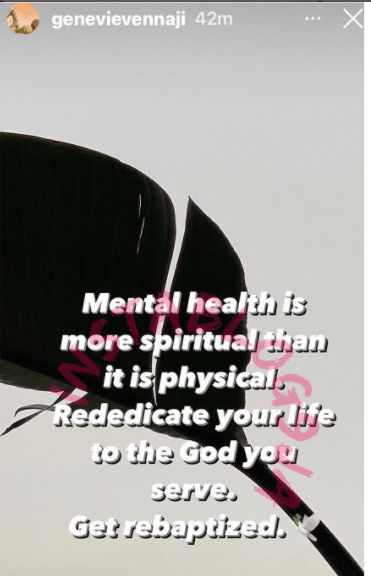 Reacting to his commentary an Instagram user identified @nellobrown commented;
'Mr Man,The earlier you realize and accept the fact that not every one wants to be married,Marriage doesn't not equate to happiness.But being a nuisance and a f**ol at 40 means you re gone.Get sense.