Blazoned across the cover of Vogue's April issue is a word I have been thinking about a lot recently: joy. Given the state of the world, even to write it down feels slightly daring. However, as basic human needs go, in recent times we have all had an insight into the importance of joy, and why it should never be taken for granted.
Of course, when life gets tough, joy can too easily be lost, and life has certainly been tough of late. That said, what I find almost equally worrying, and certainly more insidious, is how in dark days the pursuit of happiness is seen as somehow inappropriate.
Precious Lee in Moschino on the April 2021 cover of British Vogue.
© Steven Meisel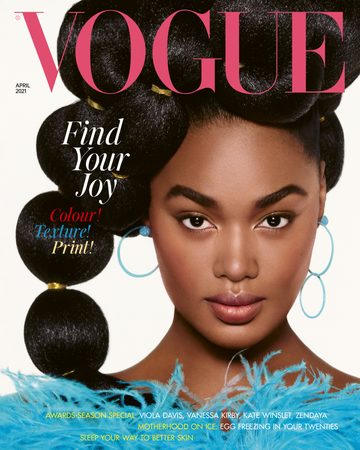 I couldn't disagree more – such perspectives are more than a little shortsighted. For many people, long before this pandemic began, the urge to feel happy and positive – to, as our cover proclaims, "find your joy" – has been an everyday struggle. Given the events of the last 12 months, I hope that we all have a greater appreciation of that, and some increased empathy, too. So many lives are lived under the daily pressures of hardship and discrimination, of stresses both personal and societal, which mean that fighting for happiness is simply a part of existence. Taking pleasure in things large or small (and sometimes very small at the moment) is not a frivolous act. I would agree wholeheartedly with the notion, then, that joy is political.
Mona Tougaard in Christopher John Rogers on the April 2021 cover.
© Steven Meisel
All of this has been much on my mind as we move deeper into another complicated year. One afternoon, I was speaking with the photographer Steven Meisel, who was at home in New York,
and we got to talking, as we often do, about how best to distil the mood of now. Wouldn't it be wonderful, I said, as this markedly hesitant springtime begins, to dedicate this month's Vogue covers – there are four of them – to the intoxicating and audacious power of joy?
Bold colours, exaggerated lines, exuberant smiles, sparkling eyes, glorious skin, celebration and confidence were all in order. We immediately began to assemble the team, and work out who the models might be. I could not be more thrilled with the final casting of our cover stars: Janaye Furman, Precious Lee, Achenrin Madit and Mona Tougaard – a quartet of extraordinary Black models currently enjoying great success in the industry. It goes without saying that they all understood that when it came to projecting positivity, Black joy – in the wake of so much recent reckoning – would hold particular significance. I love how each of these women ran with the theme and embodied the mood of the moment in her own way.
I am also grateful to Carlyne Cerf de Dudzeele, the renowned fashion editor who worked with Steven as a stylist on the shoot. Extraordinarily, after decades of seminal work – with magazines such as American Vogue, as well as her guidance of designers including Azzedine Alaïa and Gianni Versace – this is Carlyne's first time styling a British Vogue cover story. Now in her seventies, her eye is as sharp as ever, and she has brought all of her signature energy and expertise to bear.
Achenrin Madit wears Duro Olowu on one of four April covers for British Vogue.
© Steven Meisel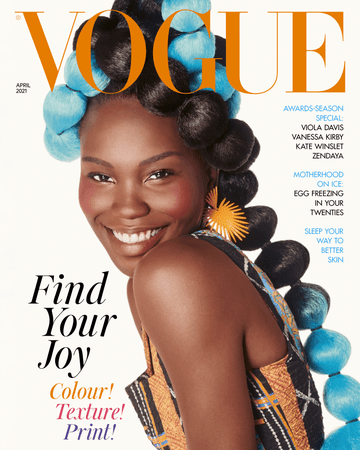 As it happens, we are lucky enough to have another legendary septuagenarian fashion force in the magazine this month. In Living for the City, contributing fashion editor Grace Coddington joins photographer Craig McDean to create one of my favourite stories of late, one that lingers in the mind – and that truly encapsulates the spirit of our time. Shot on the deserted streets of New York, with model Binx Walton, the pair have brought into sharp focus how 2021 feels for so many. Their images made me recall those of Norman Parkinson, who told us so much about the post-war era when he photographed Bath's empty streets for British Vogue in 1948. Bravo to Grace and Craig.
Last but by no means least, as we edge closer to Bafta and Oscar nights, you will find our annual awards-season portfolio, applauding the best on-screen roles of the year. As in fashion, the film industry has faced unprecedented turmoil – and yet the brilliance of this latest crop is plain to see. I was simply awestruck by the performances of Viola Davis and Frances McDormand, Riz Ahmed and Andra Day, as well as many other established and emerging talents. Photographed by Greg Williams, both in person and remotely, across three continents, the result is a 20-page extravaganza. As ever, the work of these actors exists to inspire, to offer some escape and to look towards the future. Hopefully with a little more joy.
The April 2021 issue of British Vogue is on newsstands on 12 March.