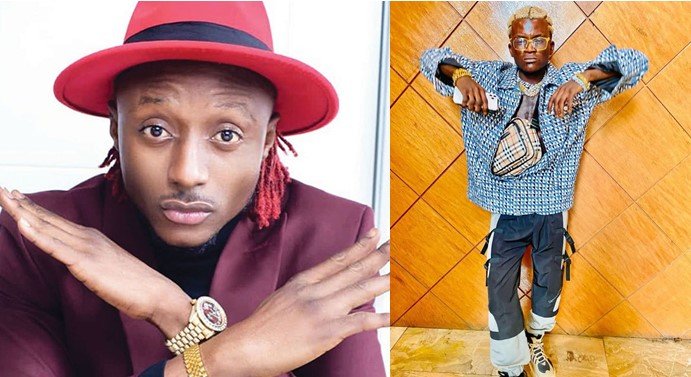 Nigerian singer Terry G has advised fans to desist from comparing him with any other act when it comes to the business of being "crazy."
Social media users and fans of Nigerian music have engaged in a debate surrounding who is crazier between Terry G, whose real name is Gabriel Oche Amanyi, and fast-rising Nigerian singer Habeeb Okikiola Omolalomi, who is popularly known as Portable.
During his peak years, the singer was also popularly known as "Akpako Master'' due to his crazy way of presenting his craft. He has an eccentric dress style, lyrics that hail madness, and often appears as a madman.
ALSO READ: ALL YOU NEED TO KNOW ABOUT TERRY G, NIGERIAN MUSICIAN AND PRODUCER
The Benue State singer was perceived as the 'weirdest and craziest singer" in Nigeria before he went off the spotlight.
Portable's emergence saw Nigerians reminisce about the days of Terry G, as some argued that the "Zazu'' crooner had more craze in him than the legendary musician and producer.
The debate surrounding both artists would reach its climax when Portable, who is equally known as Zazu, described himself as a "baboon who lives in the zoo while resisting arrest by officers of the Nigeria Police Force.
Zazu went live on his Instagram handle as he acted mad when the police tried to arrest him.
A tweet from a user named Babatunde suggested that Nigerians who compared Portable's madness to Terry G's must apologize.
Babatunde said:
"Those of you that compared Terry G's madness to Portable should apologize right now!!!"
Terry G would react to the tweet, saying:
"In this craze business please never you compare original to photocopy because una mind go dey soon"G."