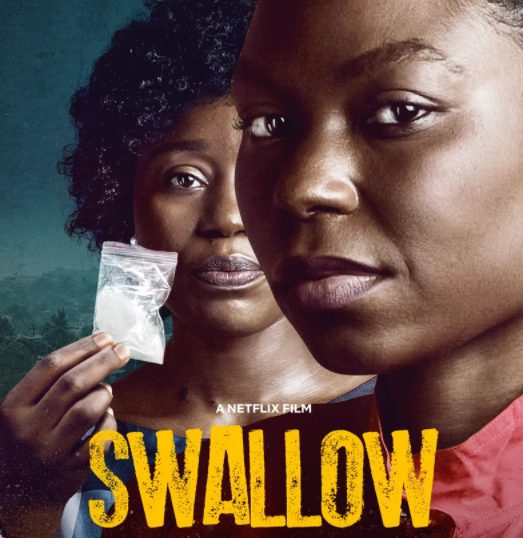 Glam Squad Magazine brings to you a review of Nigerian movie producer, Kunle Afolayan's October 1st movie, titled "Swallow."
Swallow was released on Netflix on the 1st of October, 2021.
The 2 hours long dram features popular Nigerian singer, Niyola, as the lead role actress.
Ijeoma Grace Agu (as Rose), Deyemi Okanlanwon (as Sanwo), Eniola Badmus (as Mrs Durojaiye), Chioma Akpotha (as Mama Chidi), Kevin Ikeduba (as OC), Offiong Anthony Edet (as Johnny) and veteran Olusegun Remi (as Mr Salako) also star in the film .
The film, directed by Kunle Afolayan, is based on Sefi Atta's best-selling novel Swallow, which explores the burgeoning drug trafficking trade in 1980s Lagos, which is struggling under austerity measures and the infamous War Against Indiscipline.
Swallow is a cinematic masterpiece, with Kunle Afolayan opting for a classic film aesthetic that pays perfect respect to a nostalgic past.
Afolayan casts singer Eniola Akinbo aka Niyola in the lead role, despite the fact that she has no formal or informal acting experience, save for music video appearances, and she wasn't particularly outstanding with her acting; nevertheless, her buddy Rose (Ijeoma Agu) salvaged her character.
Agu was a fantastic actor and perhaps Afolayan's greatest choice in "Swallow." As Rose, Agu is the reason why 'Swallow' has some replay value, and in a more rational industry, producers would be clamoring for a smidgeon of the charm that she so deftly delivers her characters.
Is 'Swallow,' aside from Afolayan's questionable lead decision, a good watch? Without a doubt, Afolayan has an excellent flair for art direction and is an all-around excellent producer.
In 'Swallow,' he flaunts his prowess in capturing the attire, language, and (at times) mundane happenings of the era in which the film is set. Then there's the conclusion, which will have you giggling like a baby!