Meghan Markle is in the news…again, and once more, the circumstances surrounding the situation reveal the ethos of true journalism – on which Glamsquad is anchored.
Yes, we reported everything that is being exposed right now in the Netflix docuseries "Harry & Meghan."
The new docuseries released by Netflix last week has attracted a lot of reactions, and critics have been split into a divide – with some in support of Meghan and Harry and others sticking around the Royal Family.
Everything – or almost everything revealed in the newly released docuseries with the streamer titled "Live to Lead" is everything we predicted in our November Edition of Glamsquad Magazine with the cover – Meghan the Duchess – All the Lies.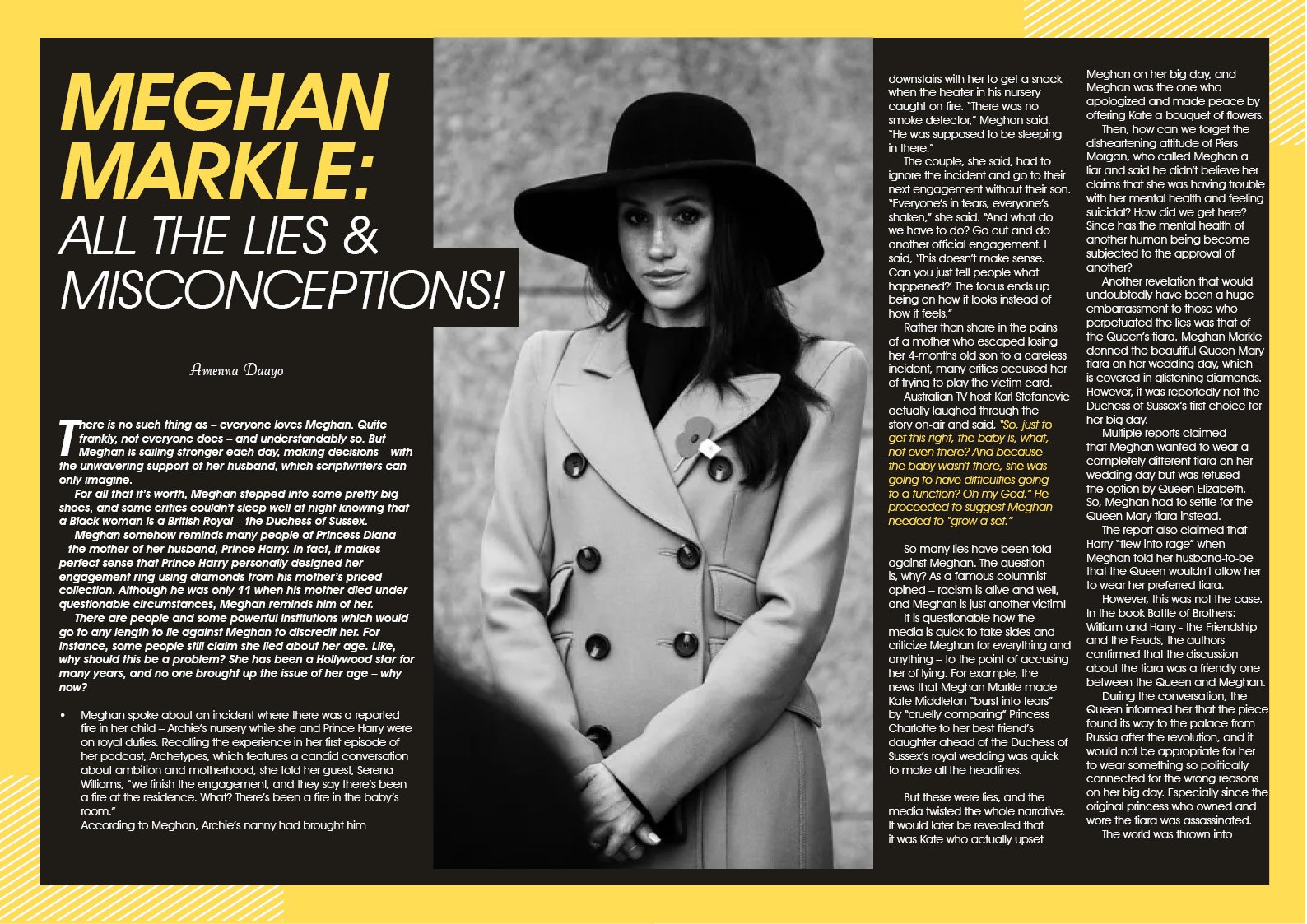 Speaking in the opening scene of the docuseries, Prince Harry is seen saying, "this was inspired by Nelson Mandela, who once said 'What counts in life is not the mere fact that we have lived,'" before Meghan adds; "It is what difference we have made to the lives of others that will determine the significance of the life we lead."
"It's about people who have made brave choices," Harry continues at the end of the trailer.
Meghan adds: "To fight for change and to become leaders" before Harry concludes, "And giving inspiration to the rest of us. To live, to lead."
In our Glamsquad edition – Meghan the Duchess: All the Lies, we discuss extensively how some sections of the British Press would stop at nothing to tell lies about Meghan and discredit her legacy.
We also predicted that more of this would follow – well, it sure did. Last week, The Sun, a British Newspaper, penned a surprising takedown of the Duchess of Sussex – a report that the world has now found out is ALL LIES – just like we said.
In the article, Jeremy Clarkson spoke of Meghan being stripped of her royal title in shame. He said, "Meghan, though, is a different story. I hate her. Not like I hate Nicola Sturgeon or Rose West. I hate her on a cellular level. At night, I'm unable to sleep as I lie there, grinding my teeth and dreaming of the day when she is made to parade naked through the streets of every town in Britain while the crowds chant, 'Shame!' and throw lumps of excrement at her."
After receiving backlash, the newspaper has since tendered an apology which the Duke and Duchess of Sussex have rejected – as they should.
Have you read our Glamsquad special edition on Meghan? If not, you should! Find a FREE version of the edition HERE. Well, thank me later, and remember to send us your feedback.