Davido's estranged baby mama, Sophia Momodu has been inundated with praises for her display of rare maturity after she did a promotion of the singer's soon to be released EP, 'Son Of Mercy' on her Instagram page yesterday despite the unrelenting tantrums and persistent insults the young Sony signee inflicts on her and her family.
Since the ugly episode of Tuesday, December 29, 2015, when Davido, his father, Dr. Deji Adeleke, sister, Miss Ashley Coco Adeleke, and his daughter,Imade Adeleke were stopped from travelling to Dubai, United Arab Emirates by immigration officials at the Murtala Mohammed International Airport, Lagos, because Coco Adeleke's passport and that of Imade were seized upon Sophia and her Uncle, Chief Dele Momodu's request; the singer has never missed an opportunity to pass derogatory remarks at the mother of his daughter and her family.
Sophie's uncle in particular, Chief Dele Momodu has had to endure the ignominy of Davido's direct attack in a couple of his hit songs for the part he played in challenging the impropriety of taking an infant to Dubai without the consent of the mother.
It is for these reasons that many were pleasantly surprised when Sophie, who was still engaged in intense social media drama with Davido as recently as July this year took time out to urge fans to pre order the singer's soon to be released work.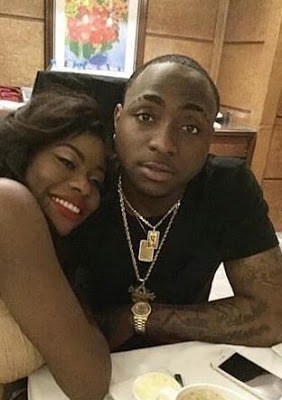 While some were suggesting that the two former lovebirds were back together, we finds that scenario too implausible after Davido, in addressing the issue last year said, "She never would be my wife and she was never qualified for that status. Her background is very dissimilar from mine, and she has very paltry education and equally diminished physical attributes"
Read fans' reaction below…
Dappdude: Damn!! Are you human?????#respek
Sonia_banks: Are you back together
Ola_hazzan: @iam_belladonna that was an amazing gesture you just did keep it up!! #onelove #greatlessonlearnt #forgivingspirit
Sean_catalyst: Wao…..this just brought smile to my face y'all shd make peace reign forever irrespective of all. Big up @davidoofficial
I_ambosslady: Awwwwww @iam_belladonna You're a great young Lady..I'm impressed! God bless your kind heart. Love begets Love, we all need to forgive & move on to greater things. The best part of your life is yet to come. The future can only be greater than yesterday. Remain blessed..I wish you & baby imade the best of everything.
I_ambosslady: Great minds don't hate!
Emotionless_lu_ Real woman do real things !!!she doesn't necessarily have to be back with her daughter's father.. she's just supporting him .. It's a sign of peace and growth.My follow Nigerians allow this young lady peace oooo ahhhh @iam_belladonna Keep it up beautiful
Cantdowrong: @iam_belladonna This just brought smile to my heart and please am Imade No1 Fan
Ayinke28: Beautiful lady with an heart of Gold. @iam_belladonna . Princess Imade is indeed being raise by a Queen
Samobaji: that is what they call maturity
Chioma_uzonna_chuvy: Wow!!!!!! am touched, God bless you real good.