Nigerian dancehall artiste and singer Yemi Alade has been sighted on social media exchanging banters with fans.
The singer who recently dropped a music video with Jamaican music act Spice could be seen replying to fans sarcastically.
Yemi Alade also referred to as Mama Africa referred to some social media users as jobless and added that she would give them something to be busy about.
Writing in Pidgin she wrote, "Some people for this app no get work, so we go give them work."
A fan by the name of Peter pleaded with the singer to let him manage her social media accounts, but she replied in quite a stiff tone, "Abeg manage your own first. bless"
Irked by her response, another follower queried why she was bitter and the award-winning singer sarcastically replied to the user that she 'likes bitter kola'.
Here is the exchange below: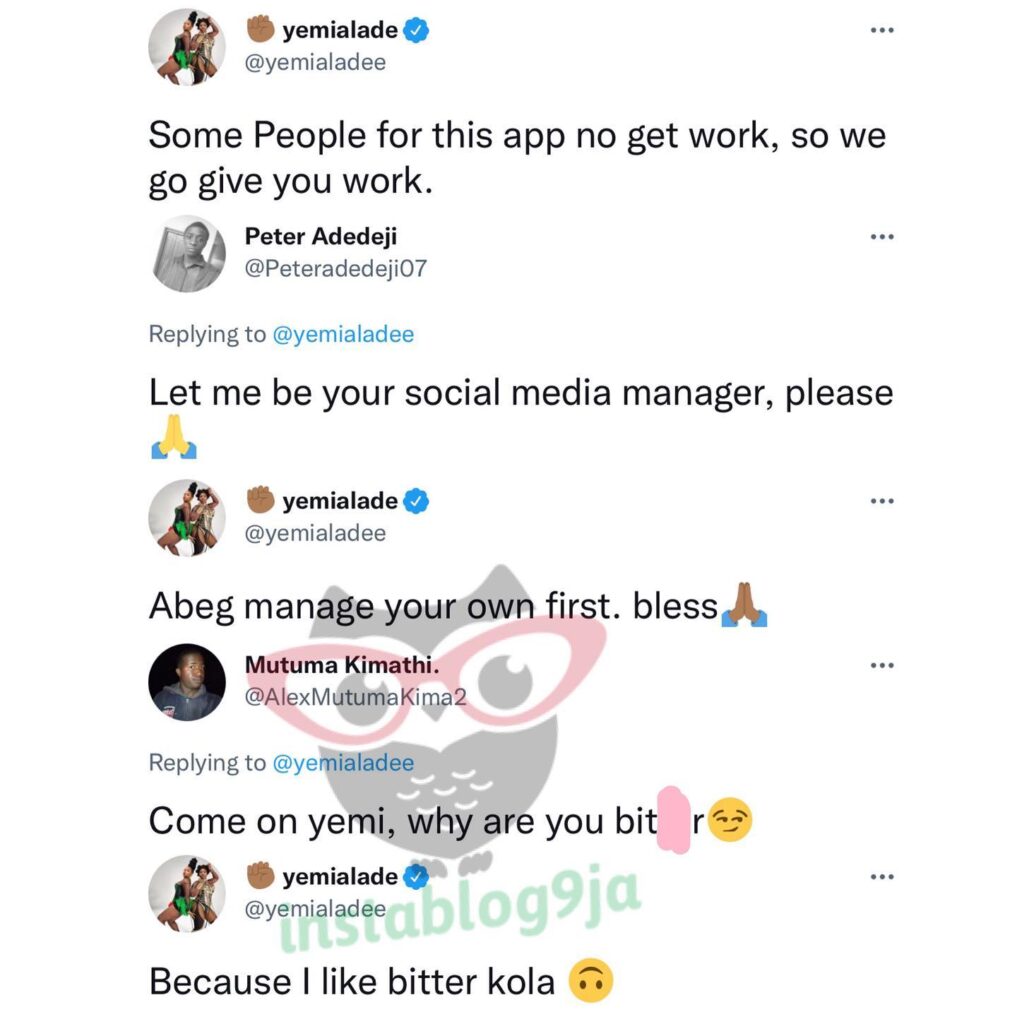 In another gist, famous Nollywood actress Annie Idibia recently shared images of herself beaming with pride over her 13-year-old daughter, who had just left the country.
The mother of two praised Isabel and told her that she was worth "10 boys," wishing her luck in her endeavours.
This comes after 2face and Annie Idibia received criticism from Nigerians for allowing the 13-year-old girl to dress in skimpy clothing.
On Instagram, Annie Idibia posted a lengthy, tearful message about how much she would miss her beloved Isabel. Her caption said,
"My sunshine. Most times I feel like I don't deserve you —+ so blessed to have you call me mama!!! It's hard to let you goooo..but can't be selfish!!! Your dreams r valid. I am soooooo proud of you! 10boys in one angelic, sweet, humble, innocent, brilliant n determined young lady!!! 13 going on 30 with so much love in ur heart. My good luck charm sunshine."
"Loveeee you. My first seed!! The most loving…most selfless.. sweetest child ever!! Pls don't let the cruel world take away all d love u be inside!!!!! Grounded…humble….shy yet extremely confident!!! Best behave student" for d last how many years again????"
In a follow-up video posted to her Instagram story, Isabel Idibia revealed that she was indeed in Frankfurt, Germany, at a restaurant.