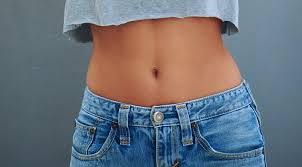 Having a flat tummy is not as hard as people make it look.
Some will tell you its by determination and zeal, wrong.
Read Also: Nigerian Celebrities Who Bought IPhone 13 In 2021
You actually don't need all that to gain a flat tummy, here is a basic way to maintain your flat tummy;
1. Stop eating late!
When ever its past 7pm try not to eat something heavy as it wouldn't be able to digest that way leaving you with accumulated fat.
Read Also: 10 Nigerian Celebrities Who Has Other Business
2. Cut down on junk
You have to cut down on your in take of junk, if it used to be 3 times a day, cut it to 3 times a week.
Trust me if you can meet the above, your on your way to a successful fat tummy journey.