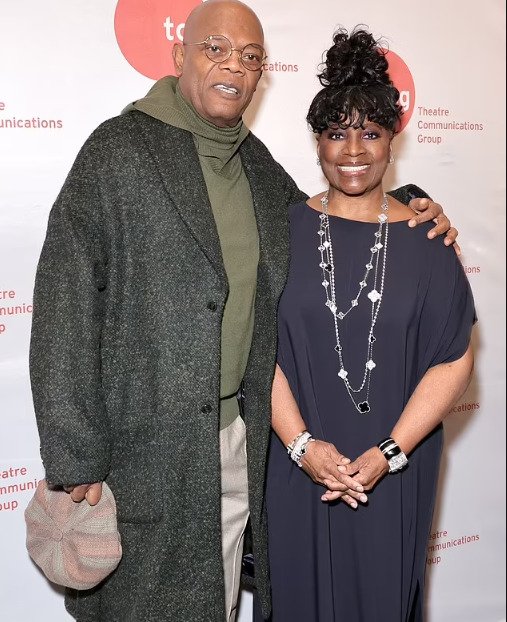 Actor, Samuel L. Jackson and his wife, LaTanya Richardson, who have been married for 42 years, allegedly had a disagreement at a theater gala and Jackson ended up leaving the event early, despite the couple being honored.
The alleged incident occurred at the Theatre Communications Group gala in New York City on Monday night, where the celebrity couple were present.
Read Also: Oscar-nominated screenwriter, Frank Galati passes on at 79
According to Page Six, the couple had a disagreement in the press room before Samuel L. Jackson left the event early. However, an event organizer stated that Jackson was not expected to stay for the entire gala at the Edison Ballroom in Midtown.
A source informed Page Six that the couple reportedly had a dispute upon their arrival. They took pictures together, but the altercation continued, as per the source.
An alternative source stated that Samuel L. Jackson and LaTanya Richardson had a disagreement in the pressroom and that Samuel seemed irritated. Despite the incident, both were honored by Vanessa Williams at the event, but the source mentioned that LaTanya Richardson accepted the honor alone.
Page Six also reported that LaTanya Richardson explained to the audience that Samuel L. Jackson left the event due to COVID-19 related concerns.
Richardson is also directing her husband in a Broadway revival of August Wilson's The Piano Lesson.
A rep for the gala released a statement to Page Six which read: 'As the top-billed star of The Piano Lesson, Mr. Jackson is extraordinarily cautious about the risk putting the production in jeopardy by exposing himself to COVID-19. Ms. Jackson accepted on behalf of both she and her husband simply to minimize his risk of exposure. Mr. Jackson had only ever planned on doing photos and then leaving, as everyone involved with planning the event knew in advance.
'It was a magical evening, and they helped raise a record haul of more than $300,000 to support TCG's mission of creating a more just and equitable theater ecology.'
Samuel L. Jackson and LaTanya Richardson met while in college in 1970, and got married in 1980. They have one child together, 40-year-old freelance film and television producer, Zoe Jackson.
Read Also: Stars of 1968 Romeo and Juliet film sue Paramount for $500million – See details