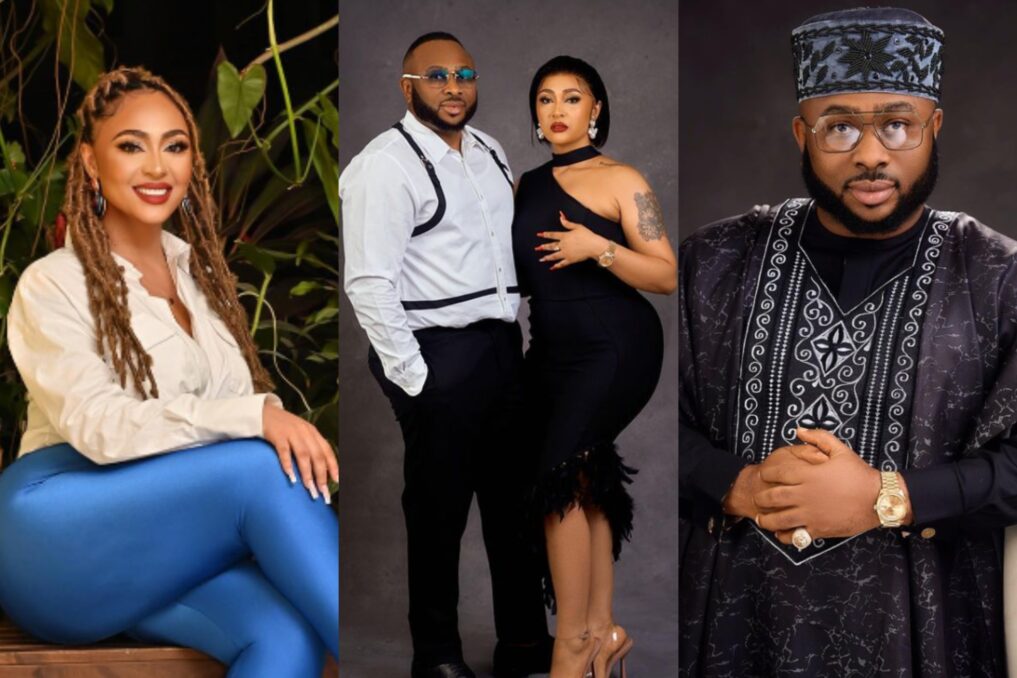 Nollywood actress, Rosy Meurer, and her husband, businessman and philanthropist Olakunle Churchill, have shut naysayers to rest over their marriage.
Glamsquad recalls that a few months back, rumours spread like wildfire that the celebrity couple had marital crisis due to domestic violence and infidelity. Amidst this, the couple welcomed their second child whom they named, Imisoluwa Amelia Oladunni Churchill. 
However, the arrival of their second child shocked their fans and well-wishers who had no idea about the pregnancy as it was kept away from social media.
In a new development, the celebrity couple defied critics by displaying affection on Instagram, dispelling the circulating rumours about their marital life.
Read Also: "She taught me everything about life in God's way" Olakunle Churchill celebrates his grandma's birthday
Rosy Meurer, shared a snapshot of herself and her husband during a video call, with an affectionate caption stating that her husband is planning to meet her in France.
Rosey Meurer's post has generated mixed reactions from Netizens. See comments below
One Elegant Chris wrote: "Will this woman forever stay proving to the internet and Nigerians that her marriage is working?"
One Emilia Akapabot wrote; "Why do women stay in abusive relationships just to prove a point biko"
One Official Ujugal wrote: "truth go soon come out"
On Princess the Diamond wrote: "Beautiful Rosy, cheer up and let ur heart be glad cos Prince Olakunle Oladunni Churchhil loves you and will be there with u very soon. Congratulations once again and happy Sunday. How are ur lovely kids getting on? I pray they are all fine. Be happy cos God Almighty loves you as well."
One Olayode Solomon wrote: "Someone somewhere is full of anger seeing this."
One Just Omah wrote: "My Favorite couples peppering haters"
One Alhassan Genera shaded Tonto Dikeh wrote: "Cee better person and one certain gubernatorial candidate just decamp to APC"
One Diana Clems wrote: "We really hope you're indeed happy
That's all that matters"
One Issac Emeka Purity wrote: "Gistlover no go see this one"
One Filty Rich Players wrote: "ee them, the spies to the 2 owners of jeans lover blogs don come oooo. Iyabo and her 2nd should rest."
One Jeada wrote: "Some bitter leaf people are viewing with fake account"
Read Also: My world to forever – Iyabo Ojo makes life promises to lover, Paulo