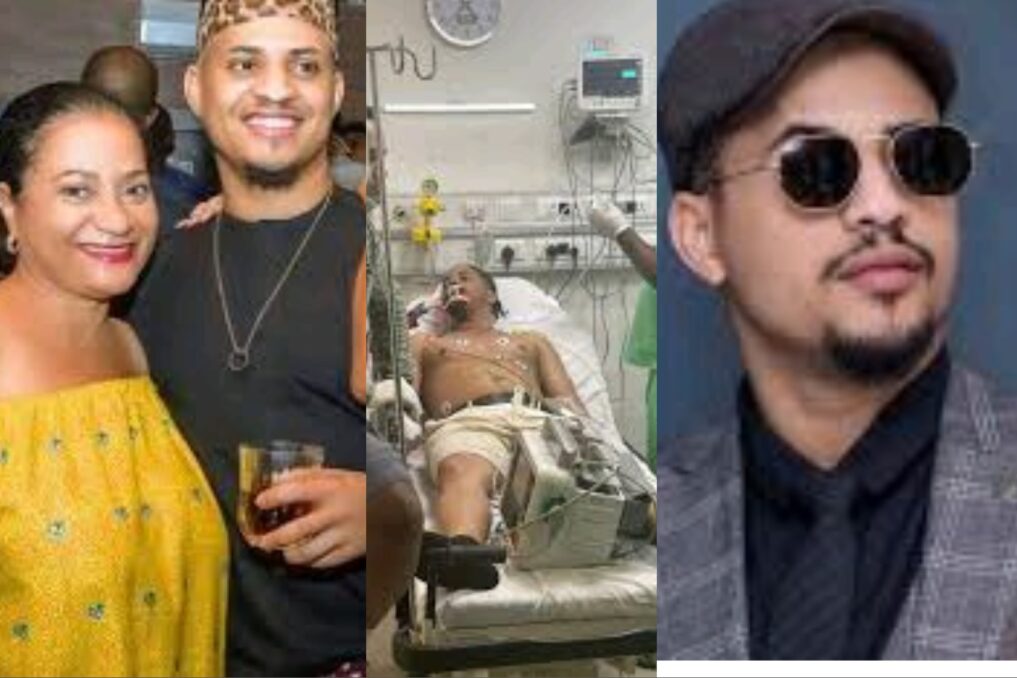 Glamsquad reports that Halima Hassan, mother of reality TV star, Patrick Fakoya better known as Rico Swavey, has broken her silence concerning her son's death.
Recall that Rico Swavey died on Thursday, 13th October after he was involved in a ghastly car accident on Tuesday, 11th October where he sustained injuries. His death was announced by his friend and co-star, Tobi Bakre
Rico Swavey was a lawyer, singer and lawyer until his death.
During the unveiling of a foundation in Rico Swavey's name on Thursday, 27th October, his mother, Halima Hassan pleaded for hospitals to attend to patients first without considering money.
She also urged the government to fix terrible roads to avoid future accidents.
She said,
"I wasn't happy when I saw him. No one would want to bury their children while they are still here. Unfortunately, it happened to me and fortunately, I will use this to appeal to the government and the hospitals. All I'm doing will not bring Rico back. It's just for the future.

"For the hospitals, any accident, trauma accidents like Rico's, they should put money aside and treat the person first. I don't wish this on anybody. And they should try to do the roads, the roads are terrible. Even if it's the street lights, whatever they can do, to help the young ones.

"We all have young people moving here and there, hustling for their lives. We don't want anything to happen to them." Rico Swavey's mum appealed.
Meanwhile, Glamsquad reported that family and eye witness debunked the news that Rico Swavey was drunk at the time he has the ghastly car crash.
Sunday Michael, a witness at the accident scene the accident, explained what happened in a news briefing organized by the late Rico Swavey's family.
Michael who is a Uber driver said he didn't perceive any smell of alcohol on his body.
The witness said that while with a passenger in his car at about midnight along Sangotedo/Ajah Road, in Lagos, he suddenly saw a car run into a concrete road demarcation.
He said,
"Nobody went close to rescue the victim as I beckoned on people around to help, but nobody was willing to.

"I went close to the scene and discovered that the car was locked, badly damaged and the engine split into two."

"Looking at Rico Swavey, he looked exactly like my brother. I couldn't leave him. So, I took it upon myself to take him to the hospital.

"He was not drunk because I did not smell alcohol on his body or mouth. Doren Hospital was the closest hospital to the accident scene, just five minutes drive, so I took him in my car to the place.

"It took over two hours before he was attended to and after being examined, a doctor said he needed instant surgery, demanding some deposit before he could be treated.

"I took him to another nearby hospital, Evercare Hospital, where he was attended to after one hour. Meanwhile, all this while, nobody called Rico Swavey's line until after arriving at Evercare when one of his friends called. She later came to join me, but at the sight of him, she collapsed.

"Evercare also demanded some deposit, but when they discovered that he was a celebrity, they decided to commence treatment on him.

"I know if Rico Swavey was given prompt medical care, he would have been alive now."
See the video below,
Read Also: "Rico Swavey wasn't drunk"- Uber driver who assisted reality star reveals