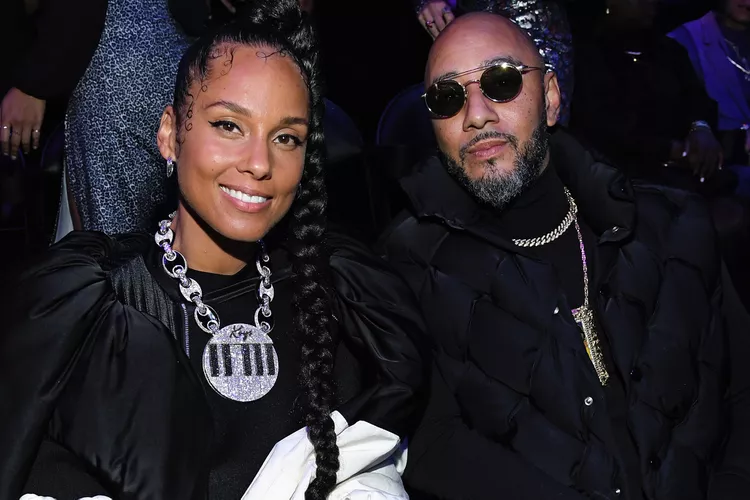 American singer, songwriter, and pianist, Alicia Augello Cook, professionally known as Alicia Keys has shared her secrets to a successful marriage with her husband, Kasseem Daoud Dean professionally known as Swizz Beatz.
Alicia Keys who is a 15-time Grammy winner in an interview with the Wall Street Journal opened up about what keeps her relationship with Beatz so strong.
Read Also: Actor, Idris Elba Jokes that the title of "Sexiest Man Alive" was his most challenging role
Keys said
"Really carving out the time for each other. We all struggle with it. There's so much to balance. There's so much to do. And you find yourself running and doing the things for school, for the kids, and doing all the things for your lists, for all the dreams you have in your career, and what you have to do next."
Keys, 42, who will mark her 13th wedding anniversary to Beatz, 44, in July, further said
"That time together with you and your partner is so priceless. And to carve out that time and to make that important, as important as those daily things, I think it really pours back into the relationship."

"You remember why you are in love, you remember why you just like each other, what's interesting about each other".
Keys and Beatz, who are both New York City natives, initially crossed paths when Keys was 14 and Beatz was 16. Although they were introduced by a common friend from high school, Keys didn't show any interest at the time and continued to feel that way for several years.
Keys, in her autobiographical book 'More Myself' wrote:
"We ended up in the same circles at various awards shows and industry events. He'd usually pull up in some fancy car, rolling deep with his Bronx crew and shining with diamonds. I wanted nothing to do with that scene or with Swizz."
But that started to change when the two were first brought together for a music project years later. She said
"The more we talked the more I noticed how his mind worked. Beyond the baggy jeans and arm tats there was depth. He was so aware of what was happening around the world.
The pair went on to form their friendship into a relationship with Beatz proposing in 2010 before they later tied the knot in Corsica that same year. The couple now shares two children together: sons Egypt, 12, and Genesis, 8.
Read Also: Facts about Ruth Carter, the first Black woman to win two Oscars