US base sport manager and reality star, Munirat Antoinette Lecky, popularly known as Anto Lecky, has revealed that she underwent an eye surgery.
The 31-year-old former Big Brother Naija housemate, revealed this in an Instagram post on Saturday.
She said she wore glasses for 22 years and contact lens for 15 years.
Anto also said it was a painless surgery and it took just 15 minutes.
"22 years of wearing glasses 15 years of wearing contact lenses FINALLY OVER!!! Best decision ever! Literally a 15 minute surgery. I got PRK surgery which is similar to LASIK but for people who have thinner corneas (I'll get into all that in detail later).
"Did the surgery hurt?? NO! My eyes were numb but..you do kinda feel the equipment. But, there is some blur/pain after the surgery once you get home. All in all, it was super EASY and I'd recommend @diamondvlasik to any and everyone with eye sight issues. Its been about 24 hours post and I'm feeling great," she wrote.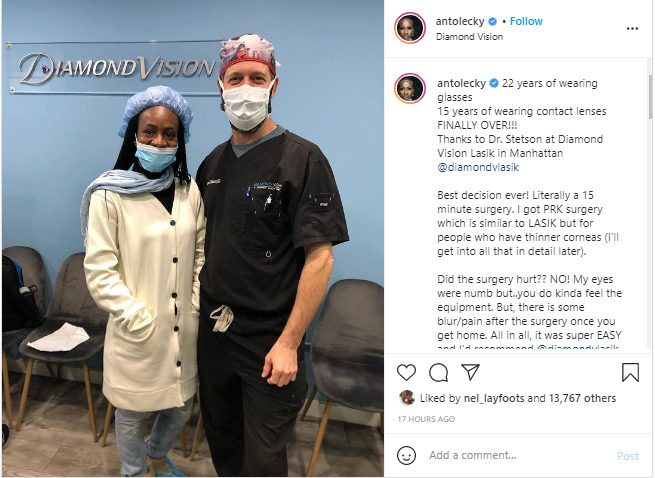 Meanwhile, it's safe to say we've become much more familiar with our eye bags recently, thanks to months of staring ourselves in the face on Zoom meetings and face masks making them the only visible facial feature when out in public.
Plus, with anxiety giving us many sleepless nights (not to mention the toll of home schooling and working from home burntout!), we're looking at some pretty impressive eye bags.
The question is: what can we do about them? Well, first off, you could embrace them like many TikTok users seem to be doing. Yes, you read that right – there's a new trend on the social media platform of actually accentuating under eye bags using brown eyeshadow and eyeliner. Instead of covering them up, users are working to normalise eye bags, which we are totally here for.