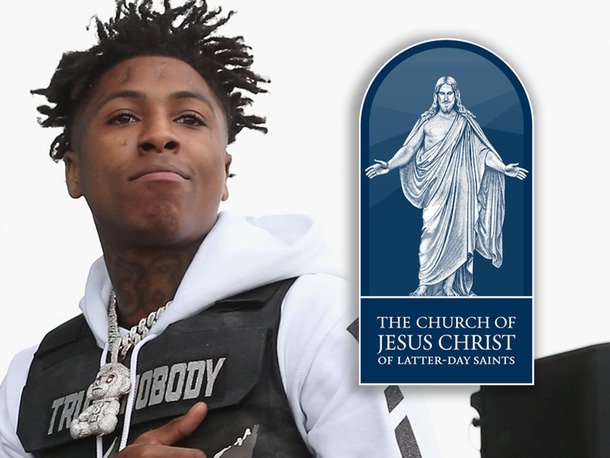 American rapper, Kentrell DeSean Gaulden better known as NBA YoungBoy has expressed remorse over the content of his lyrics and is seeking a fresh start by embracing Mormonism and shifting the focus of his rap music.
In a Billboard interview, the rapper who is under house arrest spoke about the uplifting impact that the Book of Mormon and the Church of Jesus Christ of Latter-day Saints have recently had on his life.
During the interview, he recalled how he first declined to speak with a group of Mormon missionaries who showed up outside his home. But after realizing that he ?wanted help very badly? and ?needed a friend,? YB made the decision to invite them into his home for an impactful conversation when they next showed up at his door.
He said: "It was just cool to see someone with a different mindset that had nothing to do with business or money, just these wonderful souls".
As a sign of his commitment to the teachings, Youngboy told Billboard he:s planning to further this part of his life with a baptism ceremony, although he's waiting until he no longer has to wear an ankle monitor to take this next step.
YB also tapped into a similarly vulnerable perspective when reflecting on his uniquely prolific creative output, which he likens to both a disease and an addiction.
He said "I wish I knew when I was younger how unhealthy this was for me. Whatever type of energy I had inside me, I would?ve pushed it toward something else".
Reflecting more on his music, namely what he perceives as its potential impact on listeners, YB expressed a change in how he looks at his work now versus how he viewed it when he was younger. Specifically, when discussing the shit I put in these people's ears, the artist touched on a sense of responsibility he now feels and his desire to clean whatever I can clean in the years ahead.
"I think about how many lives I actually am responsible for when it comes to my music"
YoungBoy said before diving into several hypothetical scenarios, including asking How many people have put this shit in their ears and actually went and hurt someone
Deeper into his candor on this topic, which also saw him touching on having been brought up around a lot of fucked-up shit, YB shared an apology. "I was wrong and I'm sorry."
Read Also: Tom Brady announces retirement following divorce from wife, Gisele Bündchen