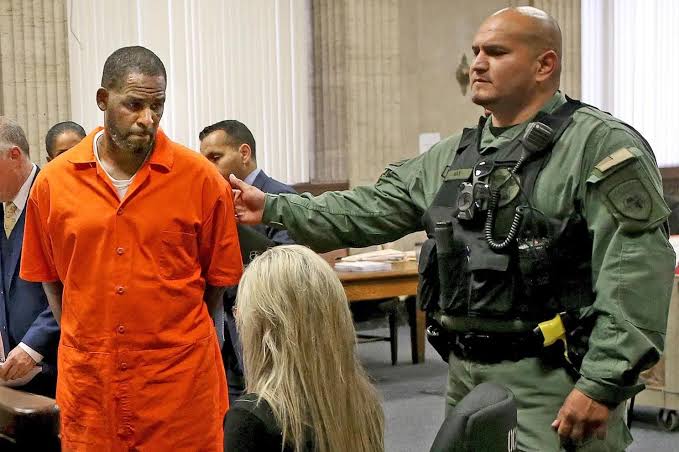 Glamsquad reports that disgraced R&B star, R. Kelly have been moved back to Chicago federal jail awaiting his second criminal trial next month.
This comes two weeks after he was sentenced in New York to 30 years in prison for racketeering and sex trafficking.
According to the Chicago Tribune, Kelly, 55, was transferred on Tuesday, 12th July from where he was being held in Brooklyn to Chicago's Metropolitan Correctional Center.
READ ALSO: Stop Allowing Boys Take Advantage Of You Because Of Tiktok — Skit Maker, Flora Advises Ladies (Video)
Meanwhile, the Jury selection for his federal trial in Chicago is set to begin on 15th August at the Dirksen US Courthouse.
He is accused of allegedly conspiring with two associates to rig a child pornography case in Cook County in 2008 and hide a slew of sexual assault allegations against minors.
The interest on the case is expected to be intense because Chicago is Kelly's hometown and where many of his accusers live.
He faces charges that he and two co-defendants fixed his state trial in 2008, with prosecutors saying Kelly arranged for a girl and her parents to travel overseas to prevent them from talking with police prior to his 2002 indictment and later instructed them to lie to a grand jury about the case.
He was indicted in 2002 in Illinois state court on 21 counts of child pornography but was acquitted six years later by a jury.
He also has a solicitation case in Hennepin County, Minnesota.
Before his transfer, Kelly spent more than a year being held at Brooklyn's Metropolitan Detention Center. Following his sentencing, he was placed on suicide watch. Read here 
READ ALSO: Khloé Kardashian expecting a baby via surrogate with her ex and baby daddy Tristan Thompson