There's a lot of uncertainty surrounding the upcoming Spring 2021 Fashion Week circuit, with brands like Saint Laurent and Marc Jacobs opting out of presenting due to the coronavirus pandemic. But Pyer Moss's Kerby Jean-Raymond has found an alternative solution: a drive-in movie premiere. Jean-Raymond announced that instead of hosting a runway show, he'll unveil his documentary American, Also—centered around the fashion week spectacle he weaved together for spring 2020—drive-in style.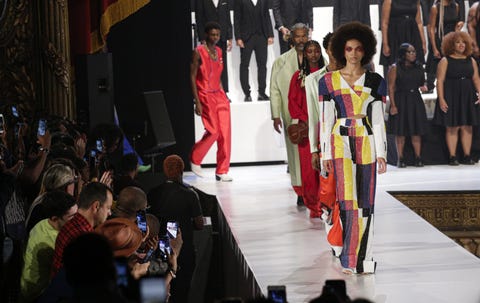 "We caught the last 2 years on film," he captioned a snippet of the trailer of American, Also, on Instagram. In the trailer, Jean-Raymond reflects on all his feats. "So many of us, when we get opportunities and huge platforms, the first thing we do is leave," he says in the trailer. But the American, Also fashion show, he says, was his way of "finding my way back, back back, and now we're finally home."
On September 8, 2019, Kings Theatre in Brooklyn was the place to be. R&B singer Brent Faiyaz opened the show with a soulful performance; the large Pyer Moss Tabernacle Drip Choir Drenched in Blood handled the singing for the rest of the evening, as the designer paid tribute to Sister Rosetta Tharpe, the queer black woman who invented rock n' roll, through its colorful and sharp designs.