Time, they say, heals all wounds, and family, they say, is an eternal bond that runs deeper than physical and ordinary.
The joyful news of the unexpected reunion of music duo Paul and Peter Okoye of the Psquare musical group has flooded Nigerian social media.
The music duo split up about four years ago (2017) and decided to pursue solo careers due to what many have described as 'irreconcilable differences.' The good news is that they are back for good.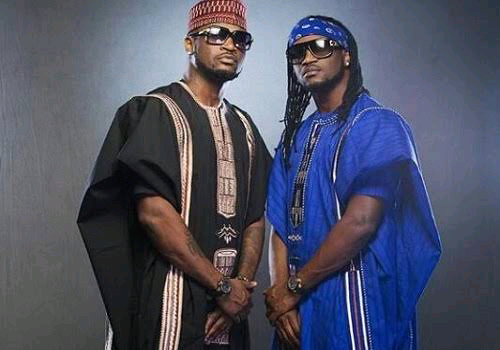 Their reunion made headlines a few days ago after Peter reportedly visited Paul's family in the United States and went on a shopping spree with his twin brother's children. The gesture sparked outrage on social media, laying the groundwork for their reunion.
In a happy moment that followed, the twin brothers reconnected on Instagram and eventually met in Peter's apartment to settle their differences.
Since the early 2000s, the music duo better known for their energetic dance routines and electronic style songs has denied their fans scattered around the world access to their high-breed music for nearly five years.
Throughout their feud, fans and social media followers pleaded with the singing duo to sheathe their swords and continue making music as a group, but to no avail.
They even went so far as to appeal to Nigeria's business mogul, Aliko Dangote, to mediate the conflict between the warring twins.
Following their split, Psquare allegedly lost a slew of endorsement deals worth millions of naira. Furthermore, rumors circulated at the time that the favorite singers were busy selling off some of their joint assets in highbrow areas of Lagos, while their bankers were said to be complaining about frequent debits from their accounts.
The good news is that the Okoye brothers have returned.
For the first time in five years, the couple celebrated their 40th birthday together on Thursday, to the delight of fans, friends, and well-wishers. The task ahead of them is to put plans in place to reclaim their lost spot in the Nigerian music scene by providing their fans with good music once more.
READ ALSO: Paul & Peter of PSquare to perform together for the FIRST time at Livespot concert
What did some celebrities have to say about the duo's reunion?
According to music legend Mike Okri, the group's breakup was the devil's plan to end their successful music career.
"The world is a better place because of their unity." I'm especially happy for them because I have twins of my own. I am aware of the fulfilling joy that twins bring to the table when they remain united and strong.
" Their temporary separation was the devil's work to derail their God-ordained joint success." They've seen, tasted, and overcome the challenges that come with celebrity.
"They should be mature enough not to go with the flow simply to meet the world's expectations." They should pursue their own dreams and aspirations to a successful conclusion. "They should also follow their own expectations in order to maintain a better P-Square," Okri advised.
"I kept asking myself why I was crying, and then I realized it was probably because I love them." Fighting consumes far too much energy. "That's why a man should save his energy for his enemies rather than his kindred," Bovi explained.
While expressing joy at their reunion, oil tycoon-turned-filmmaker and Nollywood grand patron Andy Boyo stated that the music duo "realised that separation would not work for them commercially, so they returned to their commercially successful brand, Psquare."
READ ALSO: PSquare Announce First Music Project Following Their Reunion