Nigerian disc jockey Obianuju Catherine Udeh, better known as DJ Switch has advised Lagosinas on what to do ahead of the 2023 gubernatorial election.
Taking to her Twitter page, DJ Switch advised Lagosians to storm various polling units, cast their votes and also stay behind to defend it. She asked that they return the same energy the Chairman of Lagos State Parks and Garages, Musiliu Akisanya better known as MC Oluomo dished out.
She tweeted:
"Make friends tomorrow… stay in groups! Protect and defend your votes! No be only MC Oluomo dey crase! Change it for them… so they can have a rethink and do something with their lives moving forward! Arrant nonsense!"
How it started
Ahead of the gubernatorial elections in Lagos State, MC Oluomo who is a staunch supporter of the All Progressive Congress and the incumbent governor of Lagos State, Babajide Sanwo-Olu had on Thursday, 16th March addressed his people in a video that made rounds on social media to move to the next step once they see they are losing.
According to him, if they notice they are losing, they know what to do. He also advised anyone who wouldn't be voting for his preferred candidate, Babajide Sanwo-Olu to stay at home. He said
"Iya Chukwudi, if you know you no wan give for us, sidon for your home o".
Following the outrage that ensured, MC Oluomo debunked making threats to the Igbo Community in Lagos as many called for his arrest.
Amongst those who reacted to MC Oluomo's speech is Dr. Ify Aniebo Rhodes-Vivour, the wife of Labour Party's governorship candidate, Gbadebo Rhodes-Vivour. She called on Governor Sanwo-Olu to tame his thug and also the
She tweeted:
"This man can confidently threaten voters because he is state backed. This isn't the first video of him threatening voters but somehow, he still has not been arrested. @jidesanwoolu call your thugs to order. This is a democracy not a dictatorship. @BenHundeyin do your job!"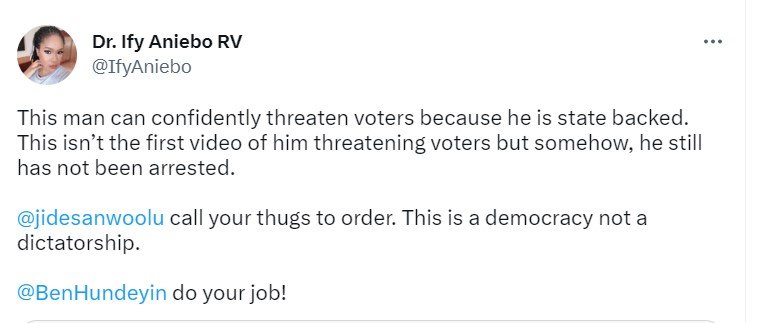 Read Also: "He would never hurt a fly"– Kemi Olulonyo backs MC Oluomo over his warning to Lagosians