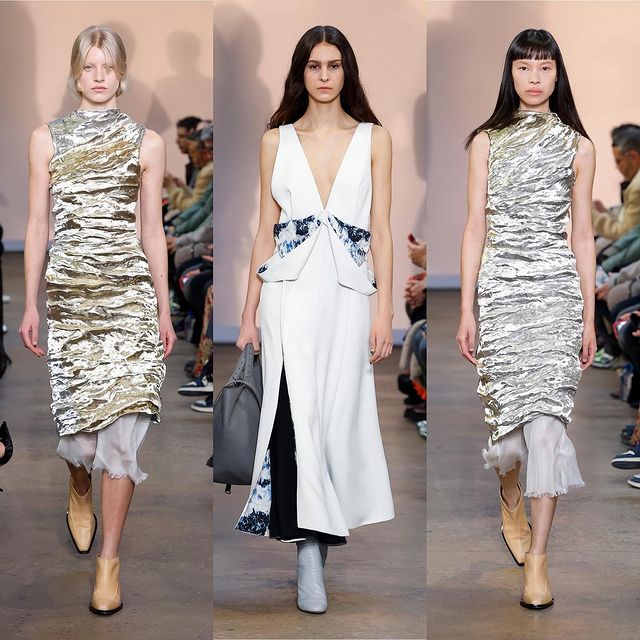 Proenza Schouler Runway Show for New York Fashion Week FW23 Ready To Wear Collection were everything we expected and more with bold colors which will blend with every skin color.
The few that did surface were leftovers from previous collections, and they only showed up as the linings of dresses, seen through a side slit in the midi-length skirt, or on straps that were taken off the shoulders and allowed to peplum at the waist. Additionally, there was no area for ribbons or ruffles.
Read Also: LaPointe Fall-Winter 2023 Ready To Wear Collection
The only major adornment they utilized was a black velvet dress with white pom pom fringe, but it was mostly hidden by the charcoal wool skirt that their stylist Camilla Nickerson, another friend they specifically thanked, draped over it.
Hernandez and McCollough don't have anything against routine life. Sevigny's voice could be heard on the soundtrack reading "diary entries" by the author Ottessa Moshfegh, with whom they have previously cooperated, "sort of like an interior monologue" over music by Venezuelan musician Arca.
The concept behind clothing was to elevate the ordinary. A nod to Helmut Lang, whose runway looks were pinned to the mood board alongside pictures of their Sevigny et al., was made by cutting "jeans" in a glossy gold leather, creating a hoodie in the softest, plushest knit, and adding vertical zippers to blazers that flashed a hint of skin but also enhanced ease of movement. The sole factor that could have driven the message home more is if more of those friend-muses joined her on the runway.
Read Also: FASHION INTERVIEW: Canadian fashion designers, Dean and Dan Caten
See full collection below;