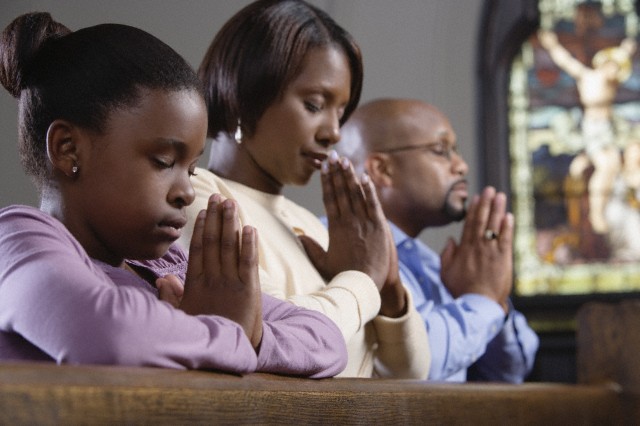 Have you ever heard of the phrase,"A family that prays together stays together"? I learnt that phrase from my mother and now that I am married with children, the phrase makes a lot of sense.
Since i got married to my husband, I have observed that the devil does not like union especially one blessed by God. In the 1st 5years of one's marriage, the devil continuously looks for ways to penetrate the home and is never at rest. The devil's mission is to scatter what God has put together. My sisters in-Christ, I am writing this piece to assure you that the devil has failed and will continue to fail if and only if you invite God into your home. 
I remember in the 1st year of my marriage, money wanted to be an issue in our lives. An amount as little as N500 to cook or as pocket money will cause problems between me and my husband. But we managed to pray our way out. This same money issue almost made me live my matrimonial home and that is when I had my first encounter with an angel. That morning, my husband had refused to drop a certain amount of money for the family and me I was fed up with his constant excuses of not having enough. So I decided to leave the marriage and he told me that if I left I shouldn't bother coming back! ( Can you imagine, that was the devil's handiwork and the fool was almost succeeding). 
I got to the office that morning and that was after I had moved my daughter and properties back to my parents' house. I am not in the usual habit of discussing my marital squabbles with my colleagues at work. So, I went on as if it were a normal day like the previous ones. An hour later, a woman walked into the office and I beckoned for her to sit down. I thought she had come to see my MD. Instead, this woman looked me in the eyes and said, "Go back home". I was shocked to hear that from her since I hadn't met her in my life. She noticed I was wondering how she knew because I had not discussed anything with anyone. "Go back. They are trying to push you out! If you don't go back, then you have been defeated", she went on to say. " Are you a Christian?" "Yes", I replied. "When you get home, pray in every corner of your house and sprinkle Holy Water around. And lastly, never leave your home for things you can resolve", the lady said. I thanked her and that was the last I ever saw of her. She hadn't even come to see the MD as I had initially thought. Immediately, I left the office to call my husband and to my utmost surprise, he answered me calmly. I asked him when he would be home and he said soon. 
I did exactly as the lady had instructed and when my husband got back, I didn't allow him to say a word until we had both prayed joining our hands together. Till date, I don't know where that ill wind that almost destroyed my home came from, if not for prayer. 
I know sometimes its difficult to pray together as a family due to work schedule or the fact that you may have a spiritually lazy spouse. It is still important to ensure that the bond in the family is not broken by still making time out to pray even if it is once a week or while driving the kids to school.
Some families think that the devil in their villages maybe the ones holding back their progress or the happiness in their homes but it is actually them who have refused to invite God into their homes.
A home that has God in it is like the 'Model Home' that everyone wishes to have or imbibe. They sail through problems without the whole world knowing. God protects them from evil and sickness. They are always happy despite their adversities.
So therefore, I implore all my sisters in-Christ, no matter the situation or condition, please take time to pray with your family. Stay blessed.
N.B. Please send your stories to [email protected] Follow us on [email protected]
Related articles across the web