Former President of the United States, Barack Obama and former First Lady, Michelle Obama visited the White House to unveil their official portraits, Glamsquad reports.
The visit of the two prolific artists on Wednesday, 7th September, is their first time back in the White House as a couple since leaving office more than five years.
Reports revealed that It was Michelle's first time back to 1600 Pennsylvania Avenue since leaving there in 2017.
Read Also: PHOTOS: Liz Truss officially becomes Britain's 56th Prime Minister after 'kissing hands' with the Queen at Balmoral
President Biden welcomed the couple to applause from hundreds of former Obama aides who packed the East Room, saying
"Barack and Michelle, welcome home".
Obama lavished praise on the painting of his wife in a strapless dress, which he said depicted "everything I love about Michelle: Her grace, her intelligence and the fact that she's fine."
On her part, Michelle delivered a passionate speech. She says the Obama portraits – a biracial kid with an unusual name, and the daughter of a water pump operator and stay-at-home mom – serve as a reminder there's a place for everyone in America.
Read Also: Anthony Joshua's Team Confirms He's Accepted Tyson Fury's Offer Of A '60/40 Split' To Fight Him
See pictures and videos below,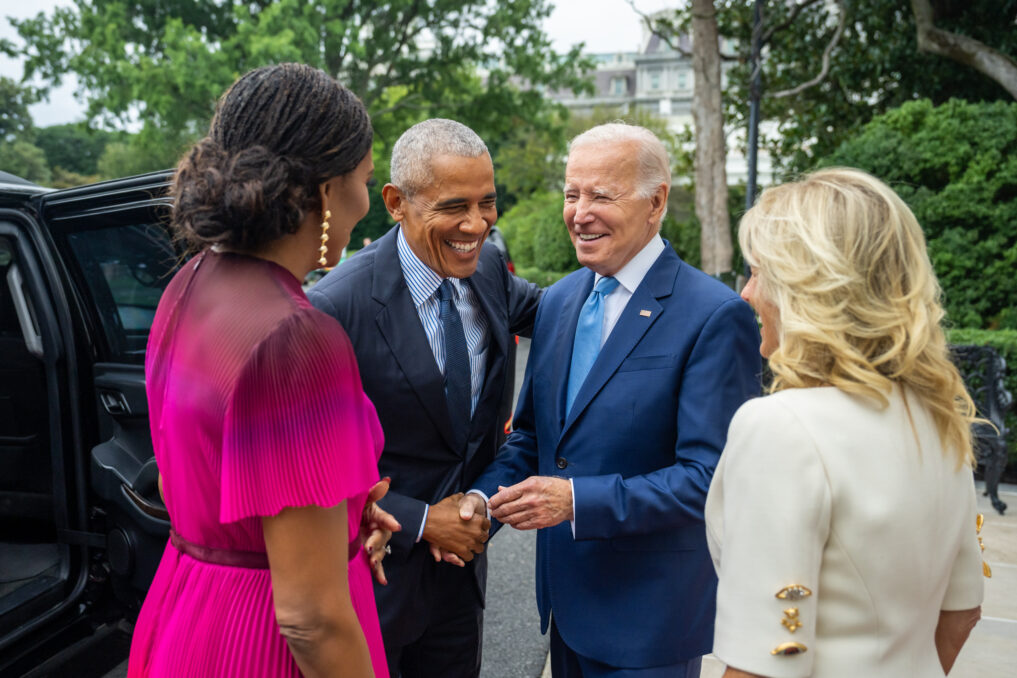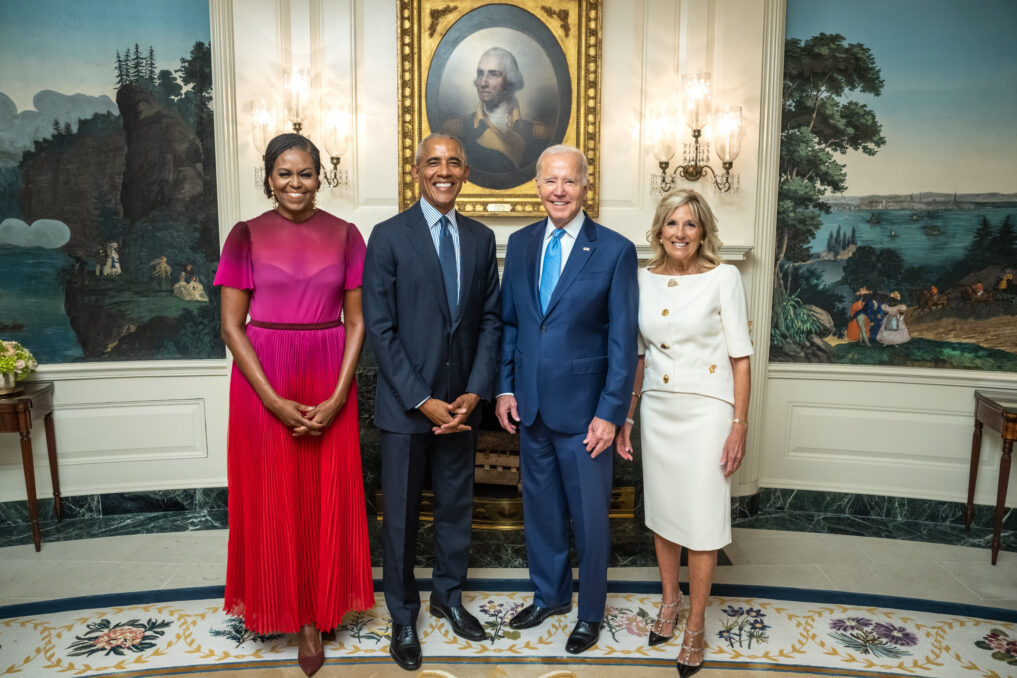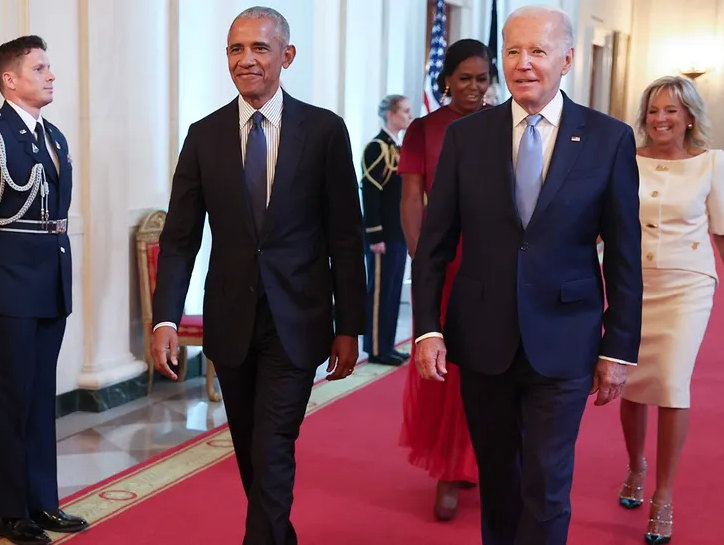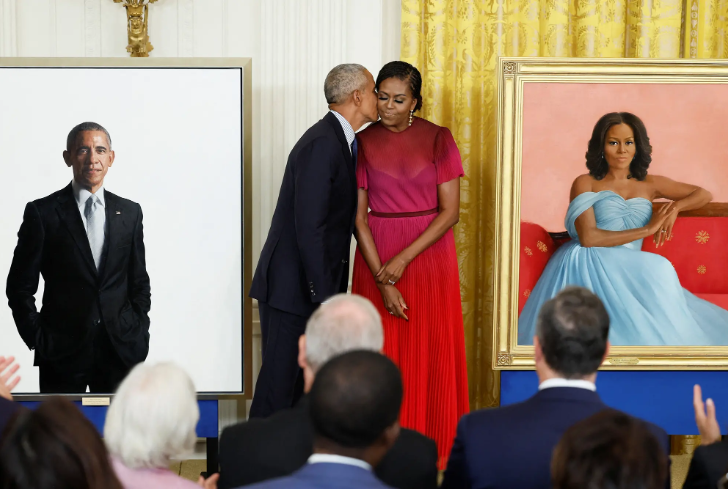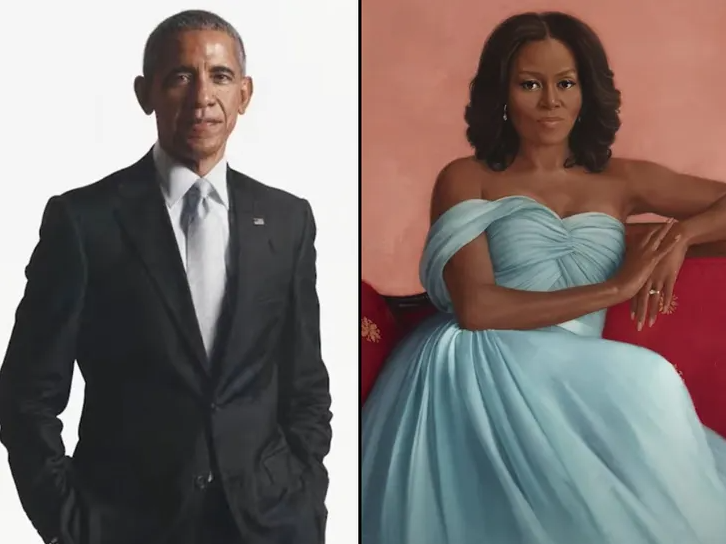 According to CNN, official portraits haven't been added to the White House Collection since 2012, when President Obama hosted a ceremony for George W. Bush and Laura Bush.
The White House Historical Association underscores the top-secret nature of this endeavour on its website. It reads in part,
"As is the custom, President Barack Obama and First Lady Michelle Obama picked their portrait artists before leaving office. The artists' names were kept confidential—until now".
The Association further explained the history of portraits.
"Since 1965, the White House Historical Association has been proud to fund the official portraits of our presidents and first ladies, a long-standing tradition of the White House Collection.

Recent presidents and first ladies typically select their respective artists before leaving the White House and approve the portraits before their formal presentation to the public and induction into the collection. The portrait artists aim to capture each unique appearance and personality, piecing together our presidential history through these individual works of art".
Sharon Sprung painted Michelle Obama's official White House portrait, while Robert McCurdy painted Barrack Obama's.
Read Also: Photos: Cardi B And Offset, Celebrate Son's First Birthday With Extravagant Car-Themed Party