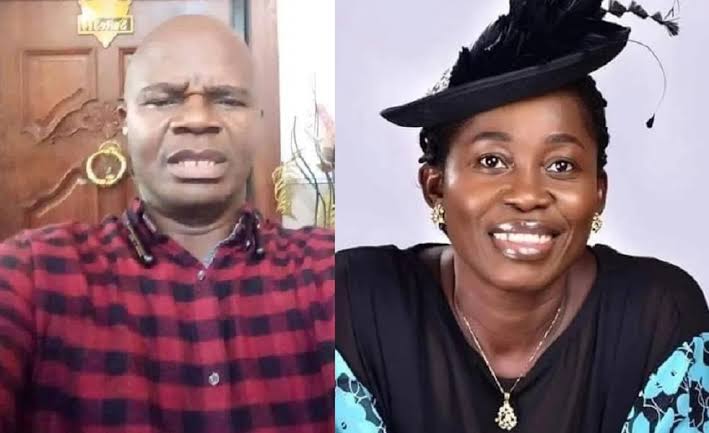 Favour Madu, the sister of late gospel singer Osinachi Nwachukwu, told the Federal Capital Territory High Court in Abuja on Monday, June 20, that Osinachi developed an ulcer after her husband starved her for a long time.
READ ALSO: Obi Cubana speaks on incident involving Burna Boy and a married woman
Madu testified as a second witness for the prosecution in the alleged culpable homicide case brought against Nwachukwu by the office of the Attorney-General of the Federation, saying Nwachukwu treated her sister like an animal and starved her despite being the provider of the house.
See the new update below as captured by glamsquad,
"Because Nwachukwu never provided for his family, my sister developed an ulcer as a result of starvation." She was the family's breadwinner. My sister owns the house where they lived.

He drove her out of the house in the rain with their last baby, and it was her first son who got a wrapper to cover the baby."

 

The bereaved sister told the court that the family referred to Nwachukwu as "Manager" because he had control over everything, including her money, and her fear of him caused her to have strained relationships with her family.

 

 

"Her husband was never kind to her. He treated her like an animal, beat her in any way he could, never made her happy, and never let her see her family. When she went for administration, she was told that N2 million had been paid into her husband's account when she asked for stage fee.

He was in charge of booking events and collecting money, and he only told her to go and minister without providing any pocket money. When my father became ill, he wanted to travel to Abuja for treatment, but the defendant refused, and he died as a result.
The defendant slapped her while we were driving to our father's funeral because she complained about how rough he was driving.
"she stated
During cross-examination, the defence counsel, I A Aliyu, asked Madu how she learned about the events while she was in Enugu, but the latter replied that she learned about them through a phone conversation she had with her sister.
Aliyu also asked Madu if the family expected to benefit from her late sister's finances and she said yes.
READ ALSO: Father Mbaka: Catholic church won't allow personality cult in the name of adoration – Archbishop Kaigama breaks silence
When asked if she asked the doctors what caused her sister's death in the hospital, she said the defendant prevented the deceased's twin sister and brother from doing so.
The judge, Justice Njideka Nwosu-Iheme, discharged the witness and adjourned the case to today, June 22, for further proceedings.