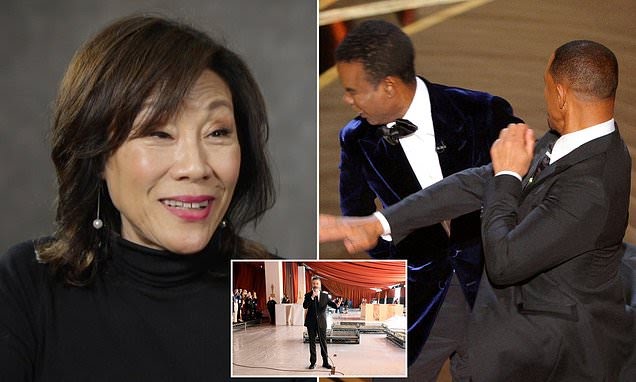 The president of the Academy Motion Picture Arts and Sciences, Janet Yang has admitted that the Academy could have responded differently to the Will Smith Infamous slap and would now respond differently.
Ahead of the 95th Academy Awards ceremony on Monday 13 March, the American film producer told Good Morning Britain that the Academy 'would respond more swiftly in removing the person' should a similar incident happen this year.
Read Also: Will Smith is 'embarrassed and hurt' by Chris Rock's controversial Netflix special
She confirmed the Academy had 'a team of people, we have security' on hand to defuse any issues this year, and backed the decision to ban Smith from the ceremony for the next ten years.
She said:
'The board of governors made a decision and we are going to stick by that decision.'
The Academy was heavily criticized for allowing Will Smith to remain in the audience and accept the trophy after attacking Rock on stage.
Recall that Will Smith walked up onto the stage and slapped Chris Rock during the 94th Academy Awards on Monday, March 27, 2022.
Rock was on stage to present the award for Best Documentary Feature Film.
Read Also: "The children's titles have been a birthright" Prince Harry and Meghan release new statement about Archie and Lilibet's royalty
However before the presentation, Chris joked with the audience and said that Smith's wife Jada looked like 'G.I. Jane' because of her bald head despite revealing that she suffers from alopecia – hair loss.
Smith at first appeared to laugh at the joke. Minutes later, the camera showed the moment he turned and stormed onto the stage to slap Rock in the face.
Rock then rubbed his cheek and said: 'Wow, Will Smith just smacked the s**t out of me.'
Back in his seat, Smith shouted: 'Keep my wife's name out of your f***ing mouth!'
He went on to win the award for Best Actor. Smith apologized to the Academy and fellow nominees, saying, 'love makes you do crazy things.'
Rock said he would not press charges.
Soon after, there were calls for Smith to be stripped of the honor. He kept the accolade but was banned from the Oscars and other events hosted by the Academy for the next ten years.
Read Also: Photos: "It was a tremendous honor" Mo Abudu shares thrilling encounter with former US first lady, Hillary Clinton