Singer Omawumi has addressed the rumours going rounds in some blocks that she has a surgically enhanced bumbum.
The talented singer has made it known to her fans and followers that her bum is natural.
The 38-year-old said this on Instagram on Wednesday.
She said even if she has desires to undergo surgery for other parts of her body, her bum is real.
"I was told that my bumbum was a topic of discussion the other day…(whether it was surgically enhanced)… Whilst there are areas of my body I would like to arrange when the time comes, The bumbum na natural o! Ask my cousins @ibanifemale and @eresudeekae!" she wrote.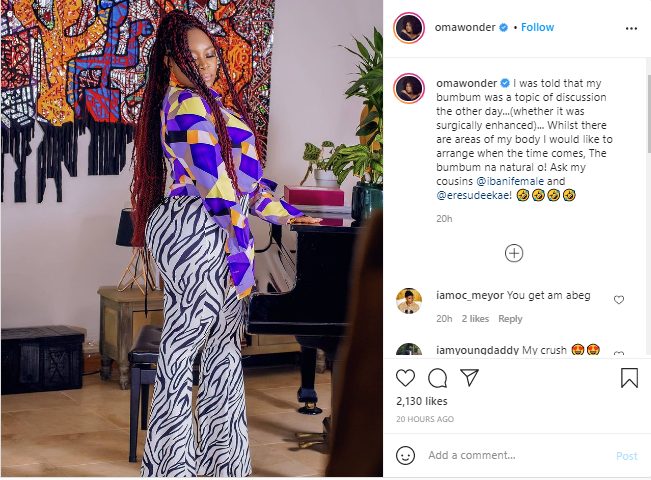 Omawumi married her husband Tosin Yussuf in 2018.
They have two children.
Meanwhile, incase you are curious and are like me asking the question "How Much Sleep Do I Need?"
For optimal health, adults should get seven to nine hours a night, says William Sharp M.D., an internal medicine physician with Ascension Medical Group. His recommendation mirrors that of experts at the National Foundation, which, in 2015, released updated recommended sleep averages for all age groups.
Despite these guidelines, many adults get less sleep than their bodies need to function well. Dr. Sharp commonly hears from fatigued patients who point to stress as the reason they can't fall asleep or stay asleep at night. "The stress they're experiencing can be obvious or it can be subliminal," he says. "Simply put, they can't turn off their motor."
Diet is another common sleep deterrent. "If you eat within an hour, your body has other business to complete," he says. "You may experience heartburn or gas." Dr. Sharp also notes that the idea that having a drink can help you get a good night's sleep is misguided.
"Yes, alcohol has a narcotic effect, but it also stimulates your kidneys to put out more urine," he notes. Non-traditional work schedules like midnight shifts can wreak havoc on one's ability for the recommended number of hours. "Training your body during daylight hours can be a challenge," Dr. Sharp acknowledges. Caffeine consumption, sleep apnea, restless leg syndrome and symptoms related to menopause are other common causes of sleep disturbance that Dr. Sharp regularly sees among his patients.