Now Kevin Hart has stepped down from hosting the Oscars, one question remains: who will replace him? The 39-year-old comedian was confirmed as the Academy Awards host for 2019 just three days ago.
However, he found himself in deep water this week when fans started sharing unearthed tweets from 2010 which show him using the word 'gay' as a slur. as well as labeling people 'f**s'.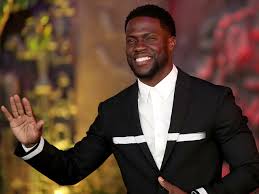 Hart announced his decision to step down as host of the Oscars on Thursday night. Hosting the Oscars is one of the biggest gigs a presenter can land and it's got to go to the right person. So WHO will the Academy ask to replace Kevin?
Hart confirmed he would no longer host the awards in February on Thursday night, apologising to the Academy and anyone he offended. 'I have made the choice to step down from hosting this year's Oscar's,' the actor tweeted.
'This is because I do not want to be a distraction on a night that should be celebrated by so many amazing talented artists. 'I sincerely apologize to the LGBTQ community for my insensitive words from my past.'
In a second tweet, he added:
'I'm sorry that I hurt people..I am evolving and want to continue to do so. My goal is to bring people together not tear us apart. 'Much love & appreciation to the Academy. I hope we can meet again.'
Ellen DeGeneres is the bookies' runaway favourite to host February's awards show, with Betfair offering odds of 6/4. If the bookies are correct, it will be the third time she's hosted the prestigious awards, having done so in 2007 and 2014. Her 2014 run saw her taking the infamous Oscars selfie, featuring the likes of Bradley Cooper, Angelina Jolie, Brad Pitt, Jennifer Lawrence, and Meryl Streep. This soon became a meme and was copied countless times by other stars around the world. Chat show host Ellen is miles ahead of the second place option, which is Jon Stewart with odds of 3/1. He's also hosted the Oscars twice before, in 2006 and 2008. In third place is 2017 and 2018's host Jimmy Kimmel, with 5/1 chances. Other names that feature in Betfair's most-likely list include Neil Patrick Harris, Chris Rock, Dwayne (The Rock) Johnson and Tina Fey and Amy Poehler.

Oscars hosts from the last decade

2009 – Hugh Jackman

2010 – Steve Martin and Alec Baldwin

2011 – James Franco and Anne Hathaway

2012 – Billy Crystal

2013 – Seth MacFarlane

2014 – Ellen DeGeneres

2015 – Neil Patrick Harris

2016 – Chris Rock

2017 – Jimmy Kimmel

2018 – Jimmy Kimmel