Like every other strong woman out there, there has never been an easy past. Nollywood award winning actress Uche Ogbodo has been through it all and her determination to inspire women out there keeps growing stronger by the day. From a glorious acting career to now a movie producer who is poised to tell stories that uplift people and give them a reason to live again, Uche Ogbodo opens up to Chiazor Daniel of Glamsquad magazine about her set to be released movie RIP TIDE which talks about a blind intelligent girl. She also opened up on her marriage and why she can't stop telling stories.
What was growing up like for you, did you ever think you would one day end up in the movie industry?
Growing Up for me was Fun and feisty, I learnt so much from my Parents and the Ghetto environment we grew Up In. I wasn't born with a silver Spoon, so I wasn't raised In affluence. But I was Sure born with my talent, because as a little child, i was already A Drama Queen, A Tom-boy and a goal-getter. All these put together has seen me through life but never did I ever envisage that drama will get me this far in my life. I didn't see my life from that perspective, I thought I would be a Lawyer or better Still a medical doctor but you never know what life and God has in store for you. Now I'm none of those but a well known actress and Movie producer and believe me, i have had no regrets.
The brand Uche Ogbodo has been painted with a lot of controversies, how have you been able to cope with all that has been said about you?
In Life we never know it all which is why there's a saying that "life Is A Puzzle". I really wish that I could change a lot of things that has been said about me that weren't the truth but where can I start. So I just live my life hoping that people begin to see me really for who I'm and not for what they read on the news about me. Because what you see in my movies or read about me is not me. I am A very good girl! I have had this intense pressure to be a good girl right from the word go including pressures from my parents. From the way I was raised, there was no room to be a bad girl because I have to protect the family name and not bring shame to my Family. But Life, Stardom and the Media have this False Image of me, that truly isn't me but what can I do about it, you know Controversy comes with the Limelight.
I heard a lot of bad things about you that am not willing to let out. It was rumored you left your husband because of his ill health; how true can this be?
That is a huge Lie from the pit of hell. I'm not one to Tear apart but To Restore, to Mend broken pieces. I am a Healer by Spirit, I would never abandon a Dying Man. Between Me and My Ex, He Knows the Truth! But he isn't Man Enough to accept his Mistakes. He knows he Fucked Up, but a day shall come when he himself will tell the world the true story of his Maltreatment Of Me Before & after Pregnancy, he abandoned me during Pregnancy; his Negligence and Wickedness. He abandoned our Daughter ever Since She was Born. He Will tell the World why he hasn't yet come to see My Precious Little girl ever since she was born, uptil now or why he has never sent Child Support. Anyway I'm not about all that, the Bottom Line is:
;It was good the way it ended. There never would have been a better timing.
Well with all that cleared up, I think you are gradually beginning to restore my confidence in you. Now let's talk about life as a single mum, tell me about your experience so far?
Life has taught me a lot in a hurry and I have no regrets whatsoever. Single motherhood has taught me to grab unto life with everything I hold dear with all my strength and all my Heart! I have learnt how to double on everything, double on my Hustle, double on my zeal, double on my Loving too. I am gradually becoming the woman I always wanted to be. I have learnt to take life step by step as it comes, No rushing.
Will you consider getting married someday if you finally find a man who is totally different from your ex-husband?
Well I am not looking for a Man Different or Similar to my Ex as a husband, I am not about Comparison here. I just want to be with a Man who is Ready to put my Pain before his. A selfless Man who will love & Cherish Me. And above all have the fear of God! That is Paramount.
Now back to movies now, you have been in the industry for almost a decade if not mistaken. What was your first movie role, in what movie and year?
My First Movie Role was in September 2005 (Mother's InLaw) featuring Patience Ozokwor, Nkiru Sylvanus, Etc. but I only played an Extra at a Wedding.
In the last ten years you have starred in almost three hundred movies, which of these characters still brings a memory to you; I mean was your favorite character and why?
In All My Years In Nollywood, I have had the honor of Featuring In Numerous outstanding movies with wonderful Casts but non has been as Challenging to me as Playing A Blind Girl In My Forthcoming Movie RIP TIDE, it took a lot of digging, practicing and Rehearsals for me to feel within Me that I have done Justice with that Role.
Although this would be my Second Time to Play Blind In A Movie, the First was In ANOTHER-BONDAGE in 2006, but the degree of Expertise In Delivery and Charisma will be felt More In RIP TIDE.
What kind of movie stories interest you?
I Love Stories that talk more about Real Life Experiences of Humans. The day to day events that happen in the Lives Of individuals, I don't really feel much for Fiction but Real Life Stories.
Recently just like every other actor in the industry who has decided to start making their own movies; you produced your first movie "Rip Tide" which is set to hit the cinemas in a couple of weeks. How was the experience like, was it a cut in the throat?
I have always had it In mind ever since I joined the Nollywood Industry that I would one day rise to the level of being a Producer. So now that I have Started, it doesn't seem new to me. But I must confess being a Movie Producer is the hardest Job Yet in the Movie Industry. It is surely the Most Difficult, tactical job ever. Because you are just one person doing the job of everyone, from the Crew to the Artists. You have to keep everything Stable and Moving! But I am grateful for the lessons I have learnt as well, because I have learnt to be more patient and understanding of producers when I'm on a set as an artist, because Producers have a lot of issues they are dealing with to make a successful movie.
Tell me a little about the cast in this movie?
RIPTIDE is an all Star Cast movie, I brought In the Best Artist befitting for every role In the Script. I was among The Casting Board, so we put in alot of Work in Pulling the Best Possible Cast For RIP TIDE. We have Stars Like Uche Elendu, Daniel Lloyd, Halima Abubakar, Ndidi Obi, MySelf (Uche Ogbodo),Joseph Okechukwu and the some Fast Rising Faces In Nollywood at the Moment Mercy Macjoe, Chinenye Uyanna,Oma Nnadi,Anita Joseph and Many More. And they alll put in their possibly best, to make sure we have a good Material(Movie) I am grateful to my amazing cast.
What inspired the movie Rip Tide? Tell me a little about it.
A lot Of Things, events and people inspired RIPTIDE. Ranging from My Passion For The Blind People, especially since I have had some Blind people also in my Life as well. I know and can feel their Pain! And the Rate at which some insensitive people treat these Blind people with Recklessness and Meanness, inspired the story. The need to fight for them since they can't fight for themselves. All these drove Me into accepting to Have RIPTIDE (A Story Of A Blind Beautiful, Intelligent Young Woman) as My first project.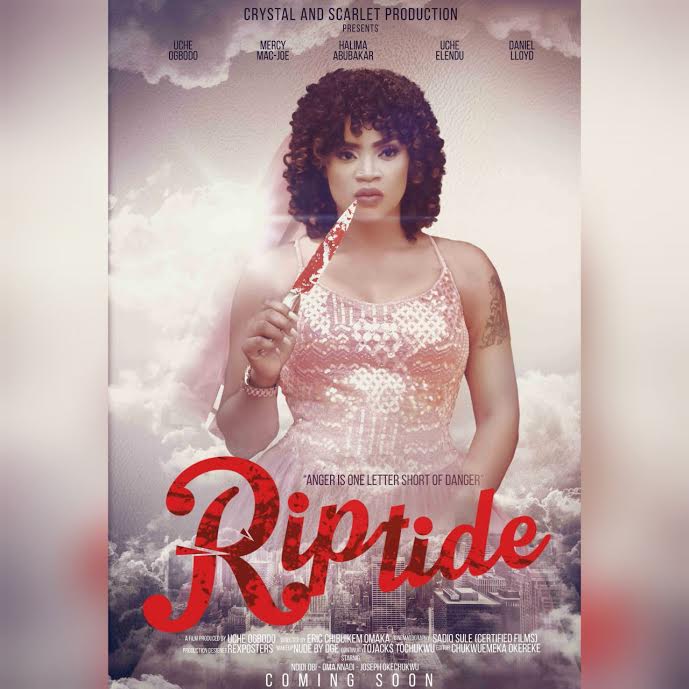 How was your experience with the cast and crew on your first production for the movie "Rip Tide" Are you hopeful this would do so well in the cinemas, I mean people are going to love it?
This is a wonderful Movie, and I know that anyone who sees the movie, will fall In love with it. It is A Movie for the whole Family.
It has amazing life lessons that one could Learn from it. It is Definitely going to do very well by Gods grace. I am very very hopeful, that the reception would be Massive.
So are you going to do another movie after this, tell me about your next project; I like being the first to hear a gossip before it breaks out.
I have another wonderful project on the pipeline that will commence in the early months of 2017. I am fully committed to bringing you amazing movies that touch Lives as time evolves.
Who kind of woman has Uche Ogbodo grown into now?
I am More Mature, and toughened. I am a goal getter, and A hustler everything by the Double.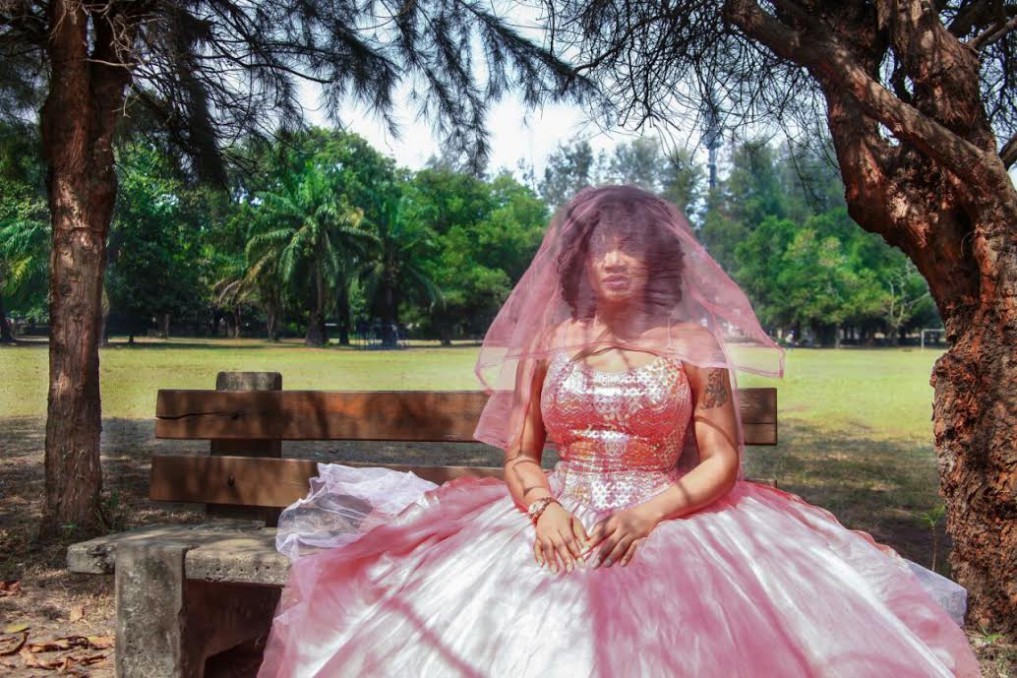 How has the year 2016 been for you?
It has been a jump-starting year for me. I am grateful to God for all the Lessons Learnt, no regrets at all. I'm anxiously awaiting for 2017. I know it will be a special one full of Wonderful Packages.
Tell me what it takes to be successful, your two favorite quotes and advice to struggling talents.
To me it takes Determination and Strength, perseverance and Discipline to be Successful.
My Favorite Quote " If You Can See It, You Can Achieve It"
God bless My Fans and all the Struggling Talents around the World, may God Shine his light upon you all. The Light that will show you the way to your Dream's actualization.
Photo credits: Ayoka Thompson Photography, Zeco Studios
Make Up: Nude by Oge