Nollywood actor, Leo Mezie's marriage has crashed.
He made the shocking revelation via social media while appreciating his fans, followers and friends for wishing him well on his birthday.
Leo Mezie also cautioned press men to respect his privacy.
See his post below: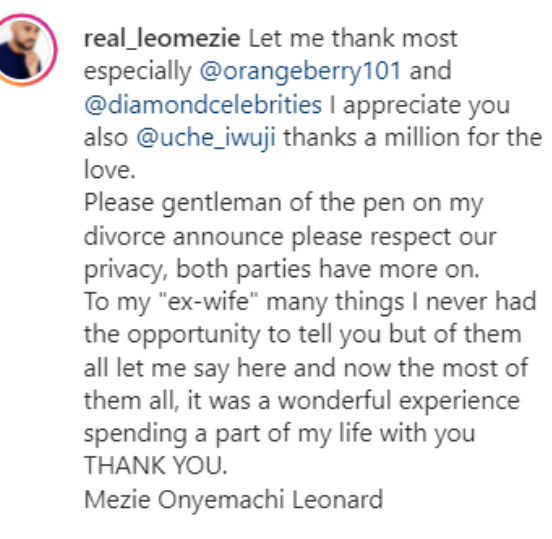 Glamsquad Magazine recalls that Leo Mezie married his ex-wife, Maureen Chimezie Onyemachi, a former banker, in July, 2010.
Recall that Maureen once described how, under duress, she nearly abandoned her then sick husband, Leo Mezie.
For nearly a year, the actor was misdiagnosed with malaria, typhoid, and pneumonia, and the drugs caused his kidneys to fail.
He was admitted to a London hospital and stayed there for several months before returning to Nigeria last month.
Maureen says she went through a lot when he was gravely ill and away.
In a chat with Vanguard, she said, "I had mixed- feelings, and I told God I did not want to become a widow at this age.
"I asked God to give me an assurance that he will keep my husband and sometimes fear, uncertain, so many feelings that I still can't explain passed through my mind.
"The feeling was one of God, you can't take him now, please show mercy. Sometimes, I was unable to figure out what was really happening.
Read Also: Nigerians react to photo of Pete Edochie and his first son, Leo
"I tried hard to understand the situation and looking for answers that I just couldn't find or figure out. But the only place I had in mind to take him to was God.
"Sometimes I doubted God when the illness became very serious. I started asking myself if really God assured me, you know. But each time I prayed, I felt renewed and stronger. I felt this kind of peace that Leonard will be just fine.
"Like I said that I needed an assurance from God that Leo will make it; you know what I did? I created more time to pray for him and myself. I got the assurance that he will live.
"I never thought of remarrying because, at that point, that was not what was on my mind. That would have distracted me and made me pay less attention to him.
"I never gave up on Leo, even though due to frustration he became harsh and unfriendly to me most of the time but I knew that wasn't him; that was frustration.
"I must confess to you, some people advised me to abandon him and go and start a new life since I still have a long way to go.
"His handsomeness, complexion at this time were all gone. He was a shadow of himself. So, to them, what was I still doing with him?
"But, to me, that was not an option neither was it the reason I married him. I never headed their advice. Instead I was ready to fight the battle. My dear, it was tough, very tough," Mauren noted.
Read Also: 'I caught corona virus after taking the full dose of the COVID-19