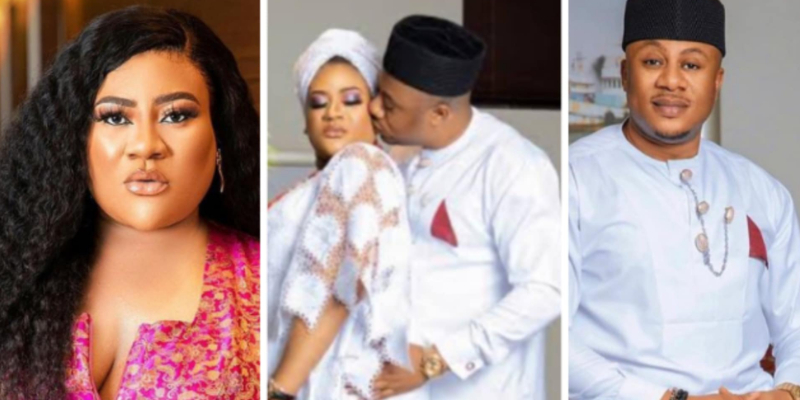 Honourable Opeyemi Falegan, the ex-boyfriend of Nollywood actress, Nkechi Blessing Sunday has promised not to respond to any issues regarding his break-up again on social media.
Glamsquad reported that the former couple resumed their online drama after Nkechi Blessing referred to Falegan during a morning talk show "Your View" on TVC.
Read Also:
Falegan fired back and asked her to keep his name off her mouth or he would expose her. Consequently, he went on Instagram Live to reveal that Nkechi Blessing tried hard to conceive a baby for him. He further backed his claim by showing a pack of drugs she takes immediately after they get intimate.
Contrarily, Nollywood actor, Uche Maduagwu during an Instagram Live with media personality, Daddy Freezer disclosed that Falegan begged him to publicise that his ex (Nkechi Blessing) doesn't wear undies.
Nkechi Blessing who was also part of Instagram Live burst into tears.
Reacting, Netizens dragged both Nkechi Blessing and Falegan for bringing up issues between them again and not acting mature with it.
Read Also: Actress Toyin Alausa gets emotional as her son, Muyiwa, set to wed
In a new development, Falegan who is an Honourable from Ekiti State shared a reel of his ex-late mother and noted that he won't be responding to any derogatory message from Nkechi Blessing on any social media space again, solely because of her mother. He further apologised to his family, fans and Ekiti State people at large for the mess so far.
He wrote,
"I won't be responding to any derogatory message from my ex on any social media space again, solely because of the love her mum( Mrs Gloria Obasi Sunday) got for me before she passed.

"This would be a sign of respect for her and her family cos I know if she was alive, everything that happened between myself and my ex wouldn't have happened.

"My total apologies to everyone that got disappointed in me emabinuu., couldnt sleep I just had to pour my heart out. I am sorry to all my FANMILY/SUPPORTERS/EKITI PEOPLE AT LARGE".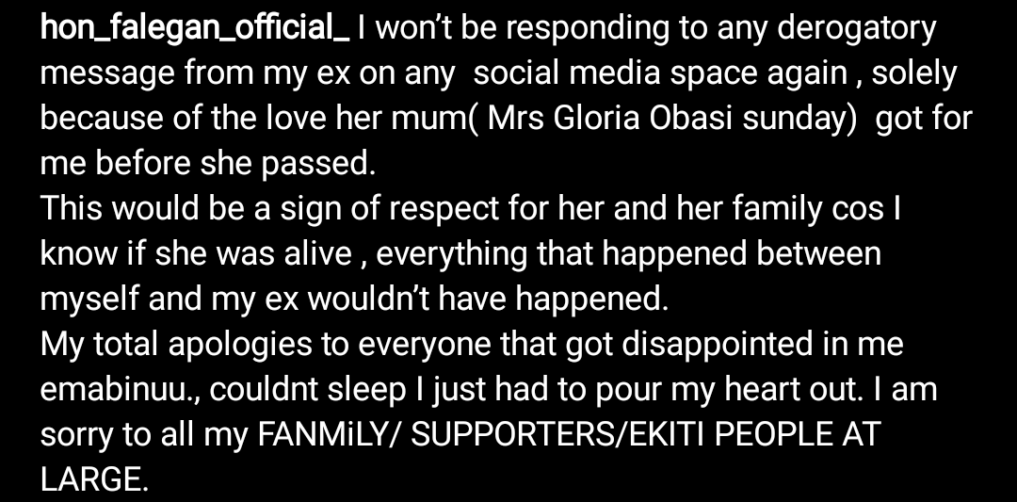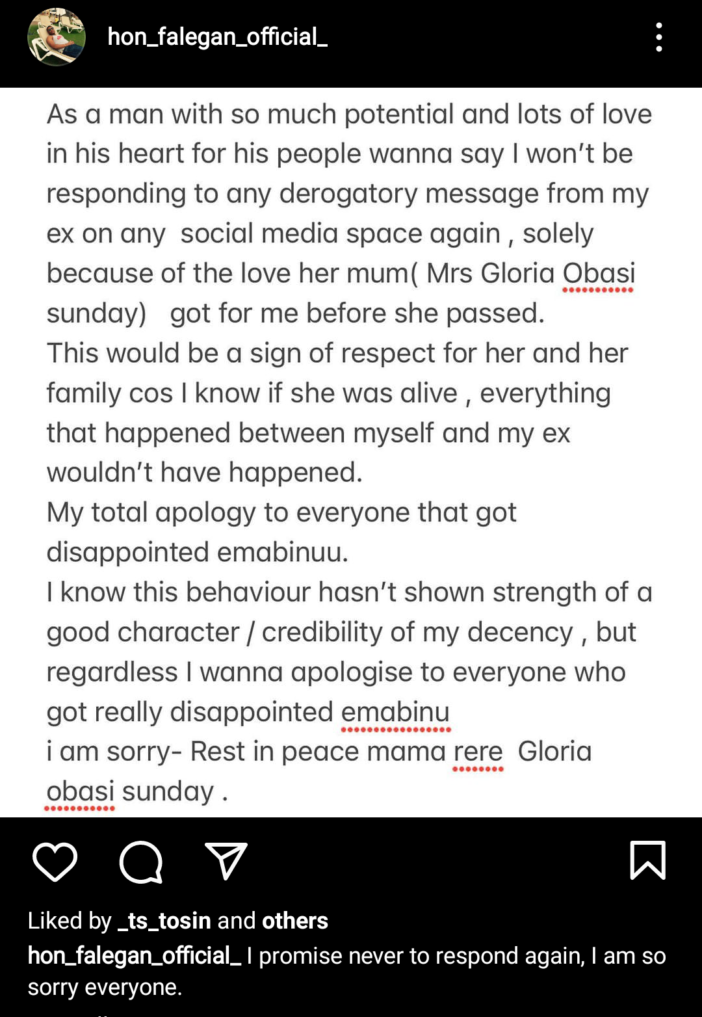 Falegan further noted that he is not a bad person. He wrote,
"Most people were really surprised on how I reacted in the past few days, based on what happened between myself and my ex, wanna say categorically that lam not a bad person.

"I guess i was at the end of my tether (limit of my endurance) as I wasn't expecting to be ridiculed on live television with over 40 million subscribers nationally and more internationally, but wanna take responsibilities for my actions, if I could change the hands of time, would have behaved better.

"Therefore if I can't take responsibility for my actions then it's a shame on me".
Read Also: DJ Jimmy Jatt Undergoes Successful Kidney Transplant In Nigeria